"I gained a sense of belonging": Summer program gives disadvantaged students a college pathway
One of many, the Appalachian State University's summer AsULead program supports rising seniors from underrepresented communities to take initiative in their futures.
Before entering the Appalachian State AsULead program, seniors Abi Lakshminathan ('23), Karina Trejo ('23), Justin Green ('23) and Hailey Rodriguez ('23) didn't know each other, yet found themselves spending a summer bonding and learning about the college admissions process.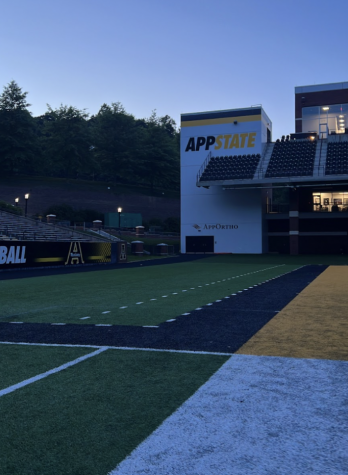 "I was looking to do something over the summer, so I started doing some research programs, and I found AsULead," said Lakshminathan, a senior at Panther Creek High School.
The year-long program provides students from historically underrepresented backgrounds the opportunity to learn about various components of attending college. From behind-the-scenes insight into the admissions process and searching for scholarships, to leadership-building and assistance applying for colleges, the group was able to access counseling they may not have access to elsewhere.
The academic achievement gap between minorities and their white counterparts still persists today. A 2005 study by Columbia University found disparities between Black, Hispanic, Asian and minority and low-income students beginning at a young age. The study found that by the end of the fourth grade, students from these minority groups are roughly two years behind their wealthier, predominantly white peers in reading and math skills. The issue seems to carry through high school, as the study further concluded that Black students are only half as likely as white students to earn a bachelor's degree by age 29. Hispanic students are only one-third as likely.
Although minority enrollment at universities has since climbed and continues to do so, people of color still account for less than half of total undergraduate students and low-income students and are five times more likely to drop out of high school than their high-income peers. The data is part of the reason programs like AsULead exist.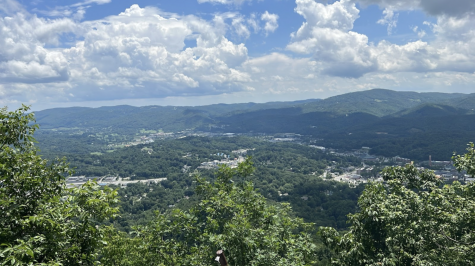 During the summer, students participated in a three-day stay at Appalachian State, giving students a brief taste of college life at the university.
Mornings at AsULead started with breakfast at Roess Dining Hall, as students were debriefed about the previous day and prepared for the one ahead. Each day, students partook in a multitude of activities and lessons in preparation for college.
"I gained a little bit more knowledge about the college application process and the college experience in general, as we got to experience things like living in the dorms," Lakshminathan stated. "I also had an amazing experience and met a lot of awesome people."
The students were divided into groups and assigned a mentor. Lakshminathan, Trejo, Green, Rodriguez and three other students were part of AsULead's "Group 5" led by mentor and former AsULead mentee Kate Payne. Payne, along with other mentors in the program, led the group through numerous team-building activities and leadership experiences.
Payne, who joined AsULead as a rising senior in high school in 2017, discussed with the GH Falcon the impact the program made on her and what motivated her to return this past year as a mentor.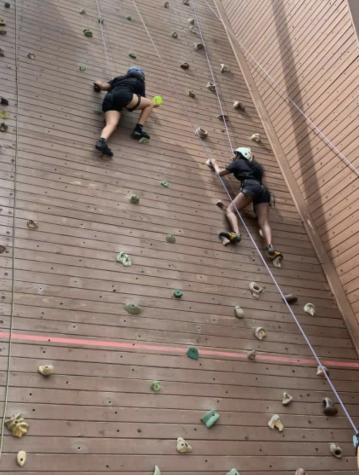 "There are many reasons as to why I wished to partake in this role of being a mentor," said Payne. "However, the reasons all centered around the fact that I was influenced to do so from my experience of being a Mentee in AsULead. It has truly left a great impact within my life and had led me into questions such as: Did I want to stay in my hometown after graduating? Did I want to attend a 4-year University, community College, or even attempt to pursue the military? Did I want to take a gap year and then pursue a higher education? And ultimately, did I want to be proactive and take advantage of opportunities that presented themselves to me?"
Karina Trejo, a senior at Wayne Early/Middle College High School, was surprised by how rewarding the program was, in addition to learning and gaining more knowledge at App State. "I did not know what to expect," she said. "I just had my mind set that I was going to spend a few days at App [State] and sit in a room to learn about college, but it was actually really fun. We got to rock climb, go to the mountains, sing karaoke and play games while also learning about college readiness." 
Payne enjoyed her time in the program and elaborated on the balance AsULead provided participants of both enjoying themselves and constantly learning. "While we had a lot of fun walking around King Street and exploring what there is in Boone, going to the Observatory to see the stars, being able to hang out and get to know people who didn't just attend my high school and more, AsULead had still taken the initiative in providing me options for life after high school. They had helped us look into scholarships, different programs within the university you could apply for," said Payne.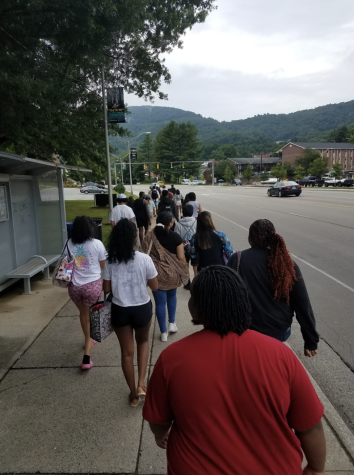 Rodriguez also enjoyed the program and spoke about how it differed from her expectations. "There was so much choice involved," she said. "I was expecting a rigid schedule but there was plenty of time to just hang out with the other people and get to know one another."
Students in the program felt like they grew in multiple ways, and Justin Green, a senior at Warren Early College High School, explained the growth he felt apart from gaining understanding into college admissions. "I gained a sense of belonging at the college," said Green. "[I felt] a sense of kindness and welcome from the counselors there and gained the ability to slowly overcome social anxiety by exposing myself to social interactions and being around a lot of people," he said.
Payne also commented on how she was able to develop throughout her time with the program. "AsULead benefited me as a student and as a mentor, not only because it was a paid position, but because it had further built upon my leadership skills. I had great practice in utilizing effective communication skills. I was also able to further learn the importance of being flexible [and] adaptable if an event calls for it," she stated.
"
I gained a sense of belonging at the college"
— Justin Green, Warren Early College High School senior
Once the summer drew to a close, students continued to meet throughout their senior year with AsULead leaders and Appalachian State University staff to further their discussions on factors of the college process.
Programs like AsULead that focus on building better leaders and college preparedness are critical in helping students from underprivileged areas access higher education that would otherwise be inaccessible, according to Green.
"There are a lot of kids in communities like mine with big dreams and goals, but they often aren't given the opportunity to express their dreams and desires for the future because of where they live," Green said to the GH Falcon. "Sometimes they'll fall victim to generational poverty or the curse of dropping out and just staying in their county because they weren't given the opportunity to get out. It's nice that this program was mainly free too, which encouraged more people to go."
Payne emphasized the importance of these programs as well and spoke about the role AsULead played in her life.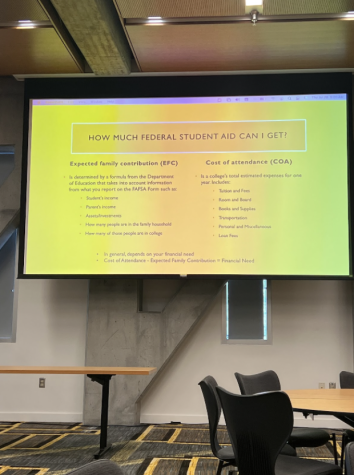 "It is absolutely critical that we maintain programs such as these to provide opportunities and skill sets for students who come from historically underrepresented backgrounds and attended a Title 1 high school [schools supported by a federal education program for low-income students]," stated Payne. "Sometimes we do not have a level playing field when it comes to certain things, which is why it is important to create and provide opportunities such as this. That way everyone has the ability to reach further in life."
Payne highlights the heavy responsibilities of being first-generation students that students frequently face. According to a 2016 study, more than half of college students were first-generation students, and among those students, 59% were the first siblings in their families to go to college. Not having access to education about the college admissions process is a barrier many of these students face. Prior to AsULead, Trejo was among the countless first-generation students without proper access to this knowledge.
"I believe it is very important to have programs like AsULead because I come from an immigrant family," Trejo shared. "My parents are both immigrants trying to achieve the 'American Dream,' and it is very difficult to be college ready when you are a first-generation student. Not having someone to help you through the college application process or FAFSA is very difficult because I would have been extremely lost on my own. My parents don't even know how to speak English fluently let alone read it, so without AsULead it would have been difficult to prepare for college. This program helped me prepare and gave me guidance every step of the way."
"
Sometimes we do not have a level playing field when it comes to certain things, which is why it is important to create and provide opportunities such as this"
— Kate Payne, Appalachian State University senior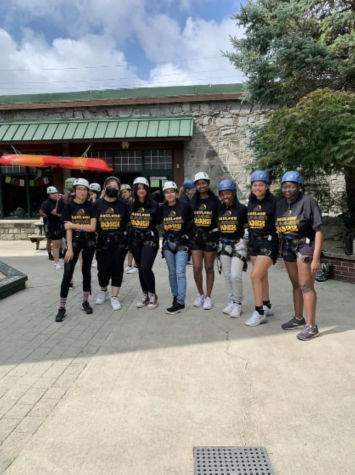 Upon completion of the program, the school guarantees admission into Appalachian State. Although not all participants attend Appalachian State, the students emphasized that the lessons learned and memories created throughout their year in the program will impact them through college and beyond.
"I learned to be a leader in my community, to open up and expand my horizons and most importantly, I gained college knowledge," said Trejo. "AsULead gave me financial aid lessons, scholarship information and room/housing guidance." 
Green, who plans to continue his journey with Appalachian State in the fall, shared how he will use his experience at AsULead and his college education to make a positive impact in his community. 
"My plans after [high school] are to attend [Appalachian] State and major in psychology with goals of becoming a child psychologist and potentially move back to my hometown to take on my county's position of a school psychologist," Green explained.
"
Without AsULead it would have been difficult to prepare for college. This program helped me prepare and gave me guidance every step of the way."
— Karina Trejo, Wayne Early/Middle College High School senior
"[I want] to help children in my school system who are often overlooked or don't easily have access to mental health services," said Green. "[I want to] encourage kids to engage in therapy and create a healthy stigmatization towards therapy. Right now, people think if you go to therapy, there's something 'wrong' with you, but that's not true. I hope to change that in the future."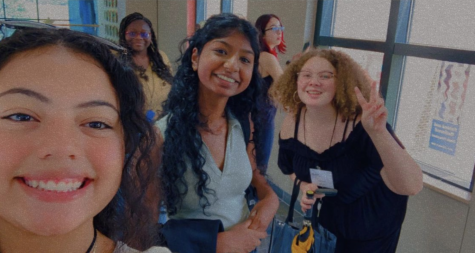 Along with Green, Lakshminathan (an incoming Business Administration major at NC State), Trejo (an incoming Business and Finance major at UNC Wilmington) and Rodriguez (an incoming Environmental Science major at UNC Chapel Hill) all plan to further their education after graduation.
Programs like AsULead will continue to support underrepresented students in pursuing their post-secondary education.
"
There are a lot of kids in communities like mine with big dreams and goals, but they often aren't given the opportunity to express their dreams and desires for the future because of where they live"
— Justin Green, Warren Early College High School senior