Women's Basketball teams boast winning records halfway through the season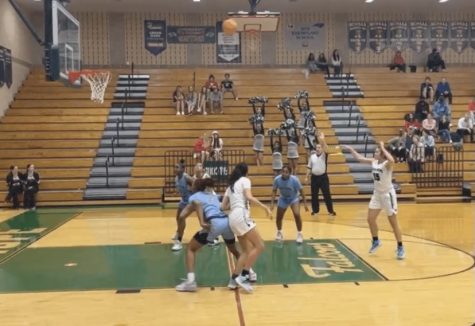 This season has shown to be a monumental one for Green Hope's JV and Varsity Women's Basketball teams. Both teams have displayed stellar performances, with JV currently holding an impressive record of 10-0, remaining undefeated more than halfway through the season. Women's Varsity has also shown outstanding improvement from last season and boasts a 9-8 record. The GH Falcon spoke with players and coaches of both teams to discuss current success and to highlight the strength of our women's basketball teams. 
JV Women's Basketball 
The Green Hope Junior Varsity Women's Basketball has stirred up a storm with their impressive record of 10-0, establishing themselves as the top in their conference. 
However, behind each well-deserved victory lies hours of hard work. The team practices for over two hours on weekdays and spends 45 minutes warming up before games, explains power forward and co-captain Rachael Baldyga. 
Small forward and co-captain Renee McClernon emphasized the tenacity and admirable work ethic of the team, saying, "Every practice [and] game is a learning experience that builds into the next game's success. We watch film[s] to know our mistakes and we practice in order to correct them."
In an interview with the GH Falcon, Coach Anna Loscko emphasized the growth that the team is working towards. Players focus on honing foundational skills and learning the "ins and outs" of the game, as well as transitioning to a more mature mindset. "We're working on getting [players] out of that middle-school mindset, because in high school, we're here to win, and our record matters," said Coach Loscko. 
Beyond the basketball court, Coach Loscko also hopes to foster a sense of leadership and integrity in the players. "First and foremost, I hope I set an example of what it means to be responsible, independent, and a team player in all aspects of life," Coach Loscko said. 
Imparting young players with a sense of self-worth and confidence proves invaluable, no matter their future. 
Even though women's sports have long been underrecognized and underappreciated, Coach Loscko encourages the team to break barriers and reach their full potential, instilling an invigorating sense of commitment to their goals. "I want each of my players to know they are valued just as much as any man, even when women's sports still do not get the same recognition. I hope by the end of the season they learn a lot more about what it means to be a great basketball player, but I really hope they learn how to be a great young woman in our world and the strength it takes to reach each of their goals," said Coach Loscko. 
McClernon reflects on her growth under Coach Loscko's guidance. She said, "Coach Loscko has helped me grow as a player and a person by helping me to develop leadership skills and logical thinking, helping me be the best player [and] person I can be on and off the court."
The close-knit team chemistry and collective passion for the game plays an important factor in the team's success. McClernon said, "I am proud of my team and our ability to have fun while still putting in the work. Our goal is to go undefeated and become number one in our conference, so far we are well on our way to that achievement." 
As the team continues their triumphant run, the Falcons strive to maintain their accomplished record and finish out the season strong.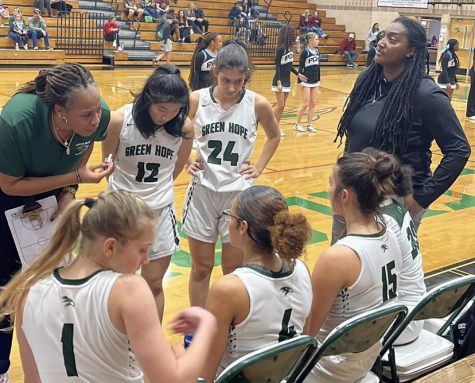 Varsity Women's Basketball
If there's one thing Green Hope's Women's Varsity team knows how to do, it's how to make a comeback. With nine wins under their belt so far this season, the team shows growth and improvement with each game. 
In an interview with the GH Falcon, Coach Melvin credits the team's achievements to the players' willingness to learn, their drive for success, and the level of diversity the team brings.
"I think what contributes to success in this team is the diversity we have on the team. Not only in the different cultures, but in the different years like sophomores, juniors, and seniors. We have a great mix. Also, everyone being on the same page and wanting to be better than last year [contributes to the success]," said Melvin. 
Power forward Liesl Tran agreed that improving is always a priority in the game. "I'm proud of our hard work as a team and just really want to do better at everything," she said. Though the players make winning look easy, the work begins long before game day. 
"Definitely a lot of work goes into preparing for a game. We try to focus on plays, that way we don't continue to make mistakes. We want to work on improving," Tran said.
Coach Melvin spoke about how fundamentals are the main focus in each of their practices and detailed how important it is for her to continue to push the team. 
"Our practices focus on the fundamentals of basketball and learning how to play the game technically. I coach them really hard and for them to try to learn and execute what I want them to do is their strength. They're smart athletes," Melvin said.
Despite the team's evolution, Coach Melvin admits it sometimes gets difficult for the players.
"The biggest challenge the team's had to face is learning how to get over last season. They're good athletes but they've got to be stronger in believing in themselves," Melvin said.
Despite this, Coach Melvin spoke about the team's dedication to winning and how she admires their perseverance.
"Their strength is their ability to improve every day. There is a common goal of wanting to win," said Coach Melvin. 
The Varsity team returned this season with a new mindset and new goal: to win. At the end of her interview with the GH Falcon, Tran credited Coach Melvin for how her coaching has helped the team and empowered the girls to reach their full potential.
"She definitely has helped me to believe in hard work and to put my all into both myself and the game of basketball. Even though last season wasn't the best, she really encourages us to move forward and believe in ourselves and our abilities," Tran said.