Keelan Cotter Commits to NC State for Swimming
From a young age, Green Hope High School senior Keelan Cotter had a passion for swimming. At just 15 years old, universities began reaching out to Cotter, offering her a position to be on their swim and dive teams. Through all the schools and teams that Cotter visited, there was one that stood out to her the most: North Carolina State University in Raleigh. Last October, Cotter announced the exciting news that she had committed to NC State to further her swimming and academic career.
Recently, the GH Falcon caught up with Cotter to learn more about her appreciation for the sport and to gain more insight on the journey to her commitment to NC State.
Where did your passion for swimming come from?
"My whole family consists of swimmers. I have two older brothers that swim and I just kinda got thrown in with them when I was younger. It's just a big part of our life at home."
What was the recruitment process like?
"We started getting recruited on June 15 after my sophomore year. I started to take visits around September through October and visited UVA, UNC, Texas, and NC State. It was really fun getting to know all the coaches and meeting the teams and seeing what it's like to swim at a collegiate level."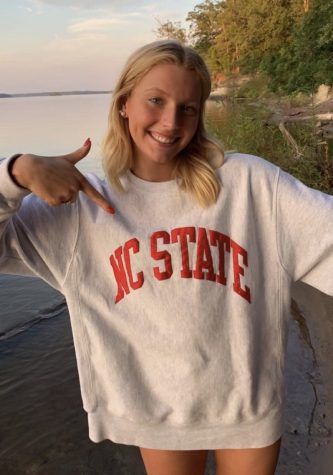 With all of the schools that reached out to you, what made you decide on NC State?
"Just the culture there. You can really tell that they weren't faking the family vibe. A lot of teams will put on a show when the recruits come, but you could tell it was real and that's something I really appreciated."
What was the greatest piece of advice you've received throughout the recruitment process?
"To be yourself. They're going to accept you and you're going to find the right choice by being who you want to be."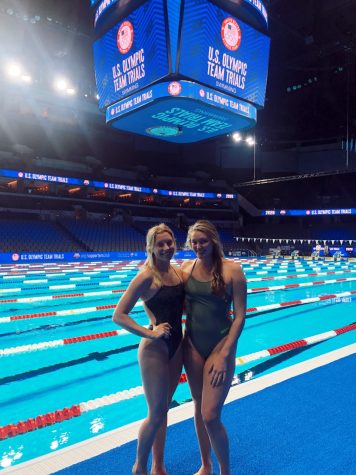 What are your goals as you continue your career at NC State?
"My goals are to definitely be in an NCAA Final, win a trophy with NC State's Womens Team, and to win an NCAA Championship. If not a team title, I'd at least like to win in a relay."
What is your greatest accomplishment so far?
"Summer after my sophomore year, I qualified for Olympic trials, and that was a big goal of mine. I'm excited to go back in 2024. It was a really cool experience. It was incredible."
What is your favorite swim and dive memory at Green Hope?
"Probably freshman year. The girls and the guys won the State Championship. Also, every year the girls dye their hair hot pink for States so that's definitely something I look forward to every year."
What advice would you give to young athletes that aspire to play during college?
"I would say that there's no such thing as setting your goals too high. Always be striving for something and always have a goal in mind."