Senior Night Spotlight: Maddie Shockley of Women's Lacrosse
In their last home game of the season, the women's lacrosse team honored their graduating players. This year, in an unusual fashion, the team celebrates their only senior, Maddie Shockley.
Shockley has a unique athletic history at Green Hope.  Shockley started her athletic journey on the gymnastics team as a former level ten gymnast.  Shockley experienced an injury that ended her gymnastic aspirations; however, Shockley found a new passion, and participated in a State Championship as a pole vaulter on the outdoor track and field team. In her sophomore year, Shockley made a significant decision to play lacrosse.
I sat down and spoke with Shockley all about her time as an energetic Midfielder for the team. This season she's had 17 goals, 5 assists, and leads the team in ground balls with 24.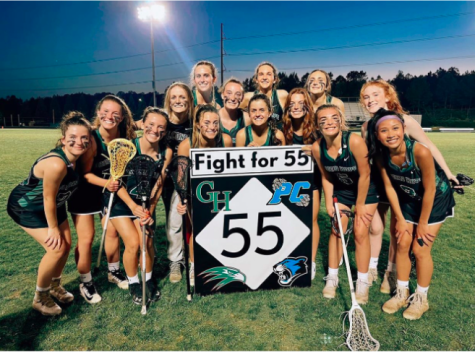 Q: What was your first impression of GH lacrosse when you joined?
A:"My first impression was how connected and close the team was. I noticed how strong the friendships were between each player and was excited to be a part of another high school team."
Q: What are you most excited for in your senior night game?
A: "I was most excited to play one more time with my teammates and sister. Unfortunately, I won't be able to play due to a concussion but I am still looking forward to supporting my team from the sidelines."
Q: What were some of your goals as an underclassmen for your senior season?
A: "My goal was to become a strong leader for the team. I wanted to set an example for the underclassmen, especially for my little sister."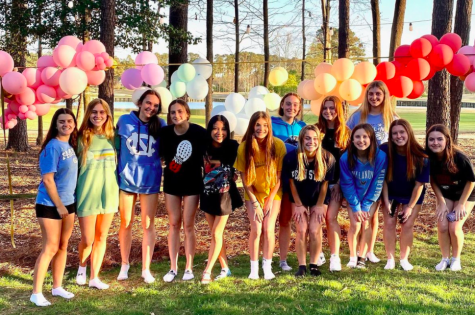 Q: What has been your favorite memory on the team?
A:"My favorite memory was winning conference championships last season."
Q: If you could sum up your game play style in one word what would it be?
A: "Fast."
Q: If you could sum up the team's game play style in one word what would it be?
A: "Aggressive."
Q: Now, I know you have a younger sister on the team, how fun has it been being on the same team as her and what does that mean to you?
A: "Being on the team with my sister has been my favorite part of the whole season. I was hesitant at first trying out as the only senior but decided it was worth it to spend the time with my sister, Katie. The best parts are the times I have assisted her goals and our game tradition to each wear one pink sock. Having her as a teammate and sister has meant so much to me by allowing us to share more good memories before I move 9 hours away from her next year." (Shockley plans to attend Penn State University in the fall)
Q: Finally, one more question, what will you miss most about Green Hope lacrosse?
A: "I'm going to miss my teammates the most. We have come a long way together all season and I'm so proud of everyone. I'm sad the bus rides and the half time pep talks are coming to an end but I can't wait to see what they do next year."
---
Maddie, through her unorthodox path to lacrosse, demonstrates how grit and drive can take someone far. The team, and Green Hope, celebrates her on her Senior Night against Apex.