Was it All A Dream? My Take on Dreamville Festival
A deadly hurricane and global pandemic have canceled artist and Fayetteville native, J. Cole's Dreamville Festival three times.  This time he punched back.  This punch was filled with lots of attractions after two consecutive years of no Dreamville.
I saved up money and paid $200 for a general admission ticket with intention to go Sunday, April 3rd for the heavyweight musicians like the titular rapper J. Cole, Lil Wayne, and more. Had J. Cole's charismatic, passionate performance not been so captivating I would've argued that $200 was too expensive.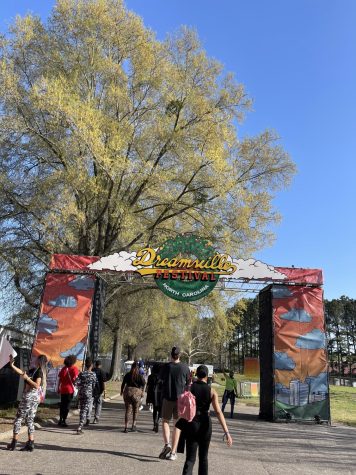 One of the many observations I noticed about the lineup was how black artist centric Dreamville is featuring lesser known black artists like Mikhala Jene and Grammy winning pioneers like T-Pain. A later observation made was how North Carolina emphasized the festival was as J. Cole asked Ari Lennox, Grammy nominated singer, where she bought her first apartment. Her response, "Cary, North Carolina!" caused cohorts of the audience (myself included) to chant in excitement. Lennox also has a history living in the Charlotte area where she first started promoting herself in the entertainment industry as a model. Learning all this, I felt deep roots to the festival knowing that while it was to bless crowds with great music it was also simultaneously exercising some North Carolina pride.
Entering the bright festival gates, as I swiftly showed my wristband, mandated for entry, I was walking in the flourishing fields of Dorothea Dix amongst some of the most outstanding Rap and R & B musicians. The decor was very fitting for Spring with all things butterflies, bright colors, and flowers, aptly large balloon sunflowers to pay homage to the park's tradition of growing sunflowers for Raleigh locals to go and visit each Summer. The sets and stages were so incredible, even a ferris wheel was situated in the middle of the site with concert-goers riding it!
With two stages "Rise" and "Shine", "Shine" being the bigger, I'd have to say the festival could've gone without these two alternating sites and should've just stuck to one. This is because no two performers played at the same time, meaning each performer had adequate time to exit and enter the stage before or after another. The two stages made for a crowded walk back up and down a hill to watch the next rapper. This was especially hard at times when I wanted to be in a good spot.

In terms of music the worst artist of the day, that I saw, was easily Lil Wayne. Lil Wayne, or more formally Dwayne Michael Carter Jr., only came out for maybe fifteen minutes when he was expected to light up the stage with large engrossing songs like Uproar and How To Love for an entire hour. And, he didn't play either of those two hype songs. Despite this, T-Pain's set list made everyone boogie in nostalgia, Wiz Khalifa had great encore tunes, and J. Cole's entire performance made up for that disappointing loss.
Safety-wise, I was largely impressed with how security and spatially oriented artists were while on stage as well as with an entire Medic Tent and EMS on site. I vividly recall one moment Wiz Khalifa took time to stop a song to ensure a fan, up in the VIP pit, got help as they'd fallen down. This measure and meticulous care for the audience's safety was still encouraged by the end of the night with J. Cole asking everyone to take steps back. The many jumbo screens on the sides of the stages also aided a safer experience as even from very far, you could still see the Love Yourz artist.
By the end of the night I was chilly and tired of standing, but really glad I'd gone to experience Dreamville. With little sleep following, my festival experience sure did feel like a fever dream.