Pickleball is the fastest growing sport for the third year in a row and participation has increased by over 158.6% in the last three years, according to the Sports and Fitness Industry Association (SFIA). In the Cary community, there are three different locations with four or more courts for pickleball players to use. 
Green Hope senior Vishnu Boggala ('24) started playing pickleball two years ago when his parents introduced him to the sport that is gaining increased traction in recent years. Since then, he has incorporated pickleball into his everyday life, pursuing it with friends. 
"It's a good time to hangout with friends and it's pretty fun. Plus, it's a very chill sport and there's not a lot of running and stuff, so all of my friends can do it," Boggala said. "It's also super accessible because we have a lot of courts near us and more are being built."
Since his parents play, Boggala is familiar with people of all ages who enjoy the sport. "I would recommend pickleball to everyone because it's not too difficult and it's an easy sport to learn for a lot of people from all age groups who can get into it really quickly," he said.
Outside of the Green Hope student body, the sport is also gaining popularity among staff.
Mr. Harrison Ray, an entrepreneurship teacher and assistant athletic director, discusses his experience with pickleball. "I've been playing pickleball for a year and I got started because I could easily pick it up and go to any park that has courts to play with friends," he said.
"
[I]t's an easy sport to learn for a lot of people from all age groups who can get into it really quickly
— Vishnu Boggala ('24)
As the assistant athletic director, Mr. Ray said that he likes to get involved with popular sports so that he knows what students will be interested in. He also commented on how there is more freedom in playing pickleball than there is with other sports. "It's a little bit more than ping pong but not as much as tennis so you feel like you're staying active without using too much energy. Also, you can play pickleball for 30 minutes or 2 hours, so you get to decide what you want to do," he said. 
Although Green Hope offers a variety of clubs and extracurricular activities to students, there is not yet a pickleball club. There have been attempts to start such an organization, but no proposals have succeeded in establishing a club so far.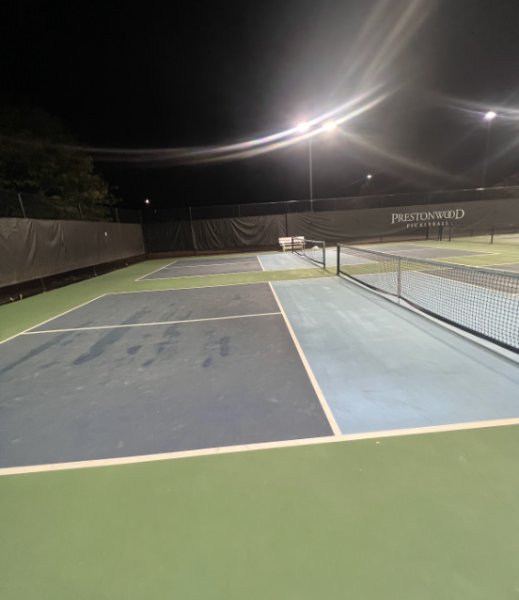 Green Hope junior Kunal Toomu ('25) tried to start a sports club last year and got shut down by the school. "If my club got approved, every sports club would have to be approved, which is why there can't be a pickleball club either," he said.
Despite feeling disappointed, Toomu explained that he understands the reasoning behind his club proposal rejection. He stated that it would force schools to accept all sports club proposals, which current school facilities wouldn't be able to accommodate. "Logistically it's too hard to manage because all the sports clubs would want to use the gym leaving no time for the actual sports. Making a schedule [for the clubs] would just be too hard," he said. 
While Green Hope doesn't currently have a space for students to play pickleball together, there are a variety of organizations around Cary that do offer space for students to engage with the fast growing sport – and spend time with friends and family while doing so. 
"
[Y]ou can play pickleball for 30 minutes or 2 hours, so you get to decide what you want to do
— Mr. Harrison Ray, assistant Athletic Director