For decades, waves of high school students have joined in on themed clothing and roaring chants to support their respective school's on Friday nights. Now, this is nearly a nightly occurrence. Student sections around the nation are becoming much more prominent at many different athletic events, going as far as competing with sections of nearby rival schools. Green Hope's "Falcon Frenzy" club is no different.
Falcon Frenzy is a school club that has invested into boosting participation and pride within school events, particularly athletics. They often stand at the front of student sections with colorful hard-hat helmets and large signs to lead the students that want to show support at the game. The club consists of upperclassmen – mainly seniors is headed by Green Hope Data Manager Ms. Sommer Allen. Although the spirited group has only been established at Green Hope for two years, the Falcon Frenzy fostered a camaraderie amongst students at Green Hope and beyond. 
In an interview with The GH Falcon, Ms. Allen touched on the community aspect of the club.  "[The kids] got me excited. The best part is y'all coming together, even coming together with other schools at games," she said.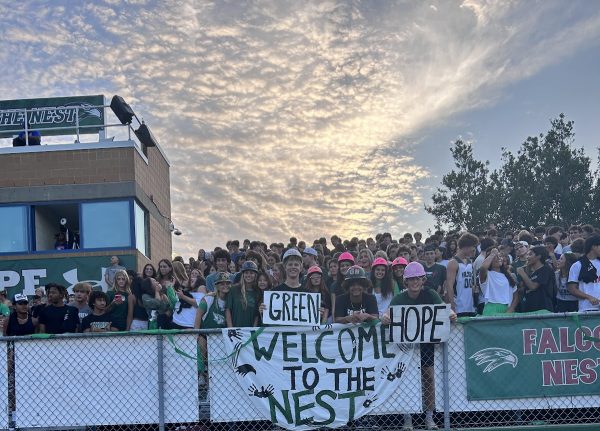 "We build character and unity at the school, especially for athletics which are important to a lot of people's lives," she said. "Other schools have really good student sections and are trying to incorporate more students […] having us support the players also brings them up."
Another Falcon Frenzy member Gabby Kreuter ('24) added, "I really like showing school spirit… All of us working together and using creativity creates energy and excitement at our school."
Becoming a Falcon Frenzy member wasn't an easy feat – after a rigorous application process, Ms. Allen faced tough decisions when picking her leaders. "We have great leaders so it was hard. I listened to teachers and administration about certain kids […] 26 kids applied and we had to cut about half," she said.
At Green Hope's game against Green Level, the Falcon Frenzies created chants in order to distract players on the court. Green Hope Volleyball player Ivana Gomez ('25) added,"Having a student section to cheer for our team definitely helps […] when they make chants personal, it gets in the other team's head." 
Green Level Volleyball player, Pranavi Bollineni ('24) also provided insight on the rivalry between student sections at the volleyball game against Green Hope. "The competitive environment was fun… We just deal with [chants] but some other players crumble." Even with the high tension between players, both sides enjoyed the participation of many students.
Many high schools around the county have had large growth within recent years of their student sections. Specifically, schools within the Southwest Wake Athletic Conference (SWAC), 7 other schools that frequently compete with Green Hope, have matched the Falcon Frenzy positive effects on school athletics.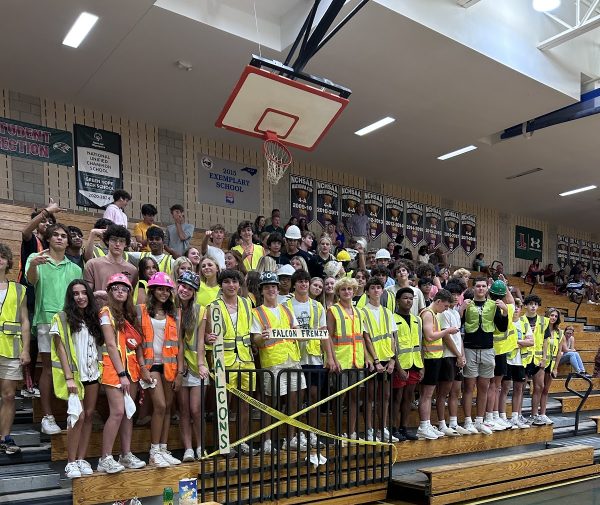 Common methods to grow participation include social media posts, student incentives, creative themes and exciting chants. Ms. Allen directs her focus to the social media aspect of the club. "Other schools see us on Instagram or TikTok and want to make a club too." Kreuter also  commented, "Some other schools have had student sections growing as much as ours within the last year because of the themes and chants… It definitely helps amplify the fun environments at games that people see online." 
The Falcon Frenzies cultivate a positive and uplifting atmosphere at Green Hope, promoting engagement and support among students and athletes alike.