Wake County addresses school security with new safety policies
With safety concerns on the rise due to increasing reports of violence, North Carolina's Wake County Public School System (WCPSS) recently introduced a new protective measure to ensure the safety of its students and staff. 
To be implemented by July 1, the new policy requires visitors to show proof of identification and to check in to the Visitor Management System, which will reveal if the visitor has certain criminal offenses. If the visitor is approved, then they will be allowed to travel to their destination in the school building while being supervised by a chaperone. 
If passed, several schools across the state–- including Green Hope High School– could be affected. Since its introduction, the policy has invoked varying reactions from Green Hope students and staff. 
Green Hope sophomore Jake Vesilind ('25) claimed that the policy may come with its own benefits. In an interview with the GH Falcon, he touched on his perspective.
"I already feel safe at school because of the police officer, but I do think this will help," he said. "I think that when a visitor walks into the building and is being chaperoned the whole time, they will be much less likely to do anything that is bad."
Another student, John Hudacko ('25) was less supportive of the policy. "I don't feel super safe at school due to all the news about school shootings … and I don't think this policy will do much to counteract that," Hudacko said. 
Green Hope School Resource Officer Christopher Crady believed the policy could be beneficial. "Although I can certainly see some people being upset about this, I think in general most people will appreciate the extra layer of security," he said.
Crady elaborated on his potential responsibilities under the security policy. "I'd get involved and remove them from the property and ask them to leave, and if they continue to refuse to leave after that, they'll be arrested," Crady said.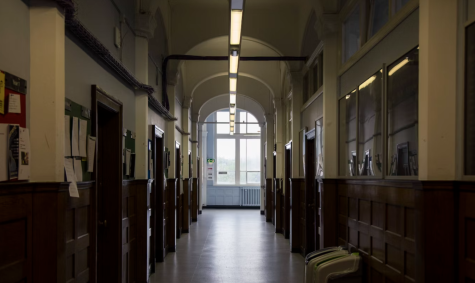 In regards to normal check-outs, parents will be asked to show proof of identification or verify their identity, but will not be asked to sign in to the Visitor Management System. Crady noted that while the new policy would probably not affect parents coming to pick their children up early, there is still a possibility of complications arising. 
"As far as picking up children, I don't think the new policy is going to affect that too much, considering the attendance office is right around the corner." Crady said. "Having said that, they [parents] should always allow a little bit of extra time, an extra few minutes. It's not uncommon for parents to come check out their kids and there's a line and parents are in a hurry for an appointment." 
Green Hope Assistant Principal Mike Reagan shared his thoughts on the new changes, stating that policy implementation may vary depending on the situation. "I think the policy is very broad because you can control it more during the school day, but what about when there's a football game, or after school events?" he said. "Those visitors don't check in, [so] it will be interesting to see what they do." 
Reagan believed that the policy's intention aligned with current ones in keeping schools safe. "Every worker that comes here has to [undergo a] background check, which is a good thing to keep people safe," he said. "I think this [the policy] does the same thing in that regard, as far as knowing that people who are here, that don't go here, are approved." 
As Wake County moves forward with this policy, Green Hope students and staff anticipate its impacts.