Undefeated
Green Hope Men's Tennis wins State Championships.
On Saturday, May 20th, the Green Hope Men's Tennis team took their undefeated record to a new level, winning the NCHSAA 4A Dual Team State Championships. After a season full of dominant wins, going 21-0 in matches, the team reflects back onto their hard earned success.
Playoffs had consisted of a 6-0 win in the first round against Overhills High School, another 6-0 win in the second round of playoffs against Millbrook High School, and a 5-2 win against Panther Creek in the third round of Dual Team playoffs. The Dual Team East Region finals were on May 17th against Cardinal Gibbons resulting in 5-1 win, bringing them to the state championships. 
The morning of May 20th started off with warmups and a quote from the team's head coach: Bob Jones. Coach Jones said to the team, "It's a beautiful morning to win a state championship," and the team did just that. 
Six players from the team played in six individual matches. Players Aiden Xu ('25), Stephen Gervase ('26), Neel Varadan ('26), and Madeshan Muruganandam ('26) winning four of those matches brought Brij Bhatt ('25) down to the last match of the day. It had all come down to the last set and the last point, which was secured by Bhatt. The day then concluded, Green Hope coming out on top and winning the State title.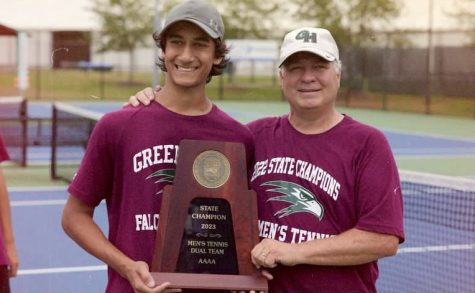 Jones reflected on the entire season and said how the team had improved throughout, "I just think we gradually got better as the season went on. Just from practicing and playing matches, the team improved overall. By the time we got to the playoffs, and especially the last two/three rounds, we really were playing the best tennis we played all season."
Freshman Neel Varadan earned the esteemed MVP title, which is chosen by the coach of the winning team at the state championship.
Varadan shares his experience with the team this season, noting that "There are so many great guys on the team and just to be part of that is a great experience. Everyone definitely gave it their all this season."  Varadan won his set seamlessly at states going 6-3 and 6-0, saying how, "The start of my match was definitely difficult since I was nervous, but I really started to ease into it and by the second set I was playing really well."
The team consisted of strong players and resulted in a season full of triumphs. Jones stated, "I tell my players to always play with confidence, play aggressive, trust in their game and trust the time and practice they've put in." This team full of underclassmen played with determination and came out on top against the most competitive teams in the state. Now being 2019 and 2023 state champions, Green Hope Men's Tennis will be a team to be reckoned with for years to come.