A celebration of heritage: Asian American and Pacific Islander month
From Vice-President Kamala Harris' half-Indian heritage to Michelle Yeoh's groundbreaking Oscars Best Actress win, Asian American and Pacific Islander (AAPI) representation has been prominent in conversations regarding diversity and inclusion. These high-profile individuals all have something in common: they all come of Asian descent.

Asian-American and Pacific Islander Heritage (AAPI) Month annually commemorates the history and impacts that these two communities have made in the United States. Every May, East, Southeast, South Asians, Melanesians, Micronesians, Polynesians and Native Hawaiians are celebrated among others. 
The precursors of AAPI month were initially celebrated during the first 10 days of May in the 1970s. However, it would take until 1990 for this celebration to be recognized by the United States and extended to the entire month. The United States Government chose May to honor Asian-Americans and Pacific Islanders as a result of the communities various impacts occurring throughout the month, such as the first Japanese Immigration and the completion of the Transcontinental Railroad by Chinese immigrants. 
"
"I love when this month comes around because it brings out the best in people's cultures and it's beautiful to see such different people celebrate together."
— Ipsi Vasipalli ('25)
This year, the Federal Asian-Pacific American Council (FAPC) set the theme of AAPI month as "Advancing Leaders Through Opportunity." Through this theme, the month aims to raise awareness for creating a safe and inclusive workspace for Asian Americans and Pacific Islanders.
Among the numerous things that AAPI month aims to do, the month also strives to combat misconceptions surrounding AAPI by raising awareness through education and representation, such as the organization Learning for Justice.
According to the National Library of Medicine, since COVID, there has been a 339% surge in Asian-American hate crimes. This month aims to educate people about the complex backgrounds of the Asian American community in the United States. 
Green Hope's Chinese Student Association President Alexa Bernard elaborated on the Asian-American hate crimes, highlighted by the National Library of Medicine as a result of the pandemic.
"I feel like because of the COVID-19 pandemic, there were definitely challenging times for Asian American students, so I think this month really highlights the struggles that Asian American students went through," said Bernard. "For this month, I hope people recognize the truth about Asian Americans because Asian Americans in general are portrayed negatively. I hope that people recognize what people are doing in this country and how an Asian American face doesn't represent harm."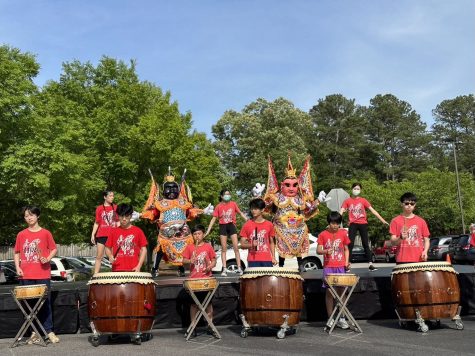 Likewise, Ash Chen ('25) provided her insight pertaining to racial stereotypes towards Asians.
"This month has become more important for me because of all the stigma surrounding Asian culture since COVID," she said. "This month reminds me to be proud of my heritage and culture despite all the negativity and stereotypes. It also means a lot to me because AAPI month gives non-Asian Americans the opportunity to become more open-minded and educated about Asian Americans."
This month, Asian Americans and Pacific Islanders aim to bring cultural unity to their surrounding communities in order to represent the adversity they have overcome, students like Bernard and Chen strive to bring recognition and honor to their cultural experiences.
"
"I hope people recognize the beauty of Asian culture and its values through this month. Look past the stereotypes and what you see on the news, and try to immerse yourself in our history and culture. There is more to us than the stereotypes say."
— Ash Chen ('25)