Going for gold: HOSA's successful states
Green Hope's HOSA travels to Greensboro for the State Leadership Conference
Green Hope HOSA won big at the State Leadership Conference; 21 Top Three finishers, and 51 Top Ten finishers. 
HOSA is an international student organization that fosters career exploration for those interested in healthcare and medicine. The organization is competitive based as students compete at multiple levels: the Regional Leadership Conference (RLC), the State Leadership Conference (SLC) and the International Leadership Conference (ILC.) 
The 47th North Carolina HOSA State Leadership Conference took place at Greensboro's Koury Convention Center and harbored young North Carolinians who strive to create a future career for themselves in the fields of healthcare. The HOSA State Leadership Conference is an avant-garde conference bringing high-achieving future medical professionals to compete from all over the state. 
Upon joining the club, students have a variety of events to choose from which they will compete through the regional, state and international levels. In November 2022, RLC gave many competitors the opportunity to participate in SLC.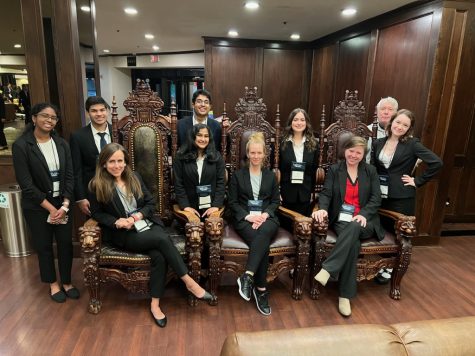 SLC was successful for future health professionals but through its test events, skills, events and presentations Falcons charged through with their determination and hard work. With 21 ILC qualifiers, almost one-fifth of GH's chapter, the Falcons were ready to represent. 
HOSA advisor Mrs. Ashley Davidson acknowledges the immense amount of work was put into events by students. "Students came in for multiple sessions and worked with board members and advisors on their skills," she stated. Though the legwork was completed by the students, many members agree that it would have been possible without advisor support.
Green Hope HOSA President Amogh Rao ('23) prepared for his event with the help of his advisors."Preparing for States was tough, we had great advisors who let us use their rooms, using their CPR dummies to practice," he said. Rao placed Top 5 with his partner in his CPR/First Aid event. 
Though the core of the conference was academic competition, SLC was a first for many. SLC introduced new students to each other, created new groups and brought those together over a love and passion for healthcare. "We had the opportunity to socialize with all Green Hope HOSA students which we previously haven't had a chance to before; this was our first time we got to stay at SLC and experience it to its fullest potential," Rao explained. 
"
We are so proud of the work you guys have put in. "
— Mrs. Ashley Davidson, HOSA Advisor
Caroline Nguyen ('23) thoroughly enjoyed her SLC experience and is forever grateful for the connections she made. "For me, SLC was extremely fun, everyone got along and because of the atmosphere, it allowed everyone to support each other throughout competitions and awards," she said.
With grit and determination from all, Green Hope's HOSA worked hard, played hard and found success in Greensboro, but the clock for the International Leadership Conference in Dallas starts now.