Spring season mid-season sports roundup
Baseball
Green Hope Varsity has played good baseball so far this year. They won 7-6 against Cary in their last game and have been dominant on the road, winning five of their six away games so far. They also went 2-0 in the Cape Hatteras Surf Sand and Service Tournament, an impressive feat. They currently sit at 4th in the Southwest Wake (SWAC) 4A conference with a 4-5 conference record. Their record is 8-6 overall. 
Junior Jacob Krebs is making an impact with his bat this season, leading SWAC in home runs, holding second in slugging percentage at 0.756, a measure of batting productivity, and third in batting average. Sophomore Mason Dean is proving to be a winner on both the basepath and the diamond, coming in third in the SWAC in runs and fourth in wins (as a pitcher). Senior Cody Kennison is fourth in the SWAC in runs batted in as well. Junior Ryan Poray thinks the team is playing well but must keep up the good work to stay in the playoff picture. Poray stated, "We just need to continue to work hard and have each other's backs. We've done that so far, and if we continue doing so, we will be successful." Green Hope is hot right now, riding a three-game win streak. They hope to stay hot enough to keep their position in the playoffs. 
Women's Lacrosse 
A promising season so far, Green Hope's Women's Lacrosse team holds a current record of 10-4. Losing only four games to three teams, the Falcon's have three more games before they close out their season at the end of April. Ranked 13th in the NCHSAA – East Division and 25th in the state, the team sits in a promising position. Stat leader Delaney Cowen ('24) has an average of 4.3 goals per game with 65 season points. Kayla Nguyen ('24) has 66 season points with an average of 3.3 assists per game. The team plays Holly Springs on April 18. 
Men's Lacrosse
Green Hope's Men's Lacrosse team has had an underwhelming start to their season with a record of 2-10. With their two wins against Panther Creek and Cary High, the Falcons have just a mere five games left to their season, finishing out before the end of the month. Leading most of the team's stats, Alex Wagner ('23) has an average of 2.7 goals per game with a total of 55 season points. Jake Bell ('23) has 68 shots on goal with a .298 shot percentage. The team is ranked 26th in the 4A – East Division and play at Holly Springs on April 18.
Softball
The Green Hope Softball team continues battling adversity with their heads high. Their overall win record  is 5-7, placing them seventh in the Southwest Wake 4A division. The remaining eight games will be a crucial opportunity to move up in their rankings. Mary Buckner ('24) comes in swinging with a batting average of 0.476, and Madison Smith ('25) leading the team in OBP (on-base percentage) with 0.571. The team is excited to wrap up their season and look forward to a more experienced team next year.
Men's Tennis
Green Hope Men's Tennis played their first match against Apex Friendship on February 26th, where they claimed their first victory. They've continued their streak, with the team still undefeated, going 14-0 in the conference. They recently defeated Holly Springs on April 13th with a score of 6-3. The team has two games left for the regular season, taking on Green Level on the 17th and Apex on the 19th. Their individuals' tournaments will kick off with the conference tournaments from April 25th to the 26th, followed by regionals from May 5th to May 6th and, finally, states from May 12th to May 13th. 
The team playoffs will kick off with Round 1 on May 3rd, Round 2 on May 9th and Round 3 on May 15th. This will all be building towards team regionals on May 17th and states on May 20th. 
Outstanding players this season so far have been Aidan Xu ('25), Green Hope's first ranked player, and Stephen Gervase ('26), Green Hope's second ranked player. Green Hope Men's Tennis is ready to serve up some more victories as they play Green Level. 
Men's Golf
Green Hope Men's Golf swung into the upper ranks of the conference, cementing a first place win at their most recent performance at Devil's Ridge Golf Club in Holly Springs. The team placed first among eight teams at the Raleigh Golf Association for the Southern Wake 4A Conference, outplaying competitors including Green Level and Panther Creek. The team has also won first place victories at Falls Village with a total score of 142 on a par-36 course and second at the Neuse Invitational, against 20 other schools. 
Player Quin Polin has consistently displayed outstanding performance, scoring 34 at Devil's Ridge and The Preserve at Jordan Lake Golf Course, where he was a co-medalist with Jake Lewis. The team looks to finish their season strong with four remaining tournaments in their season.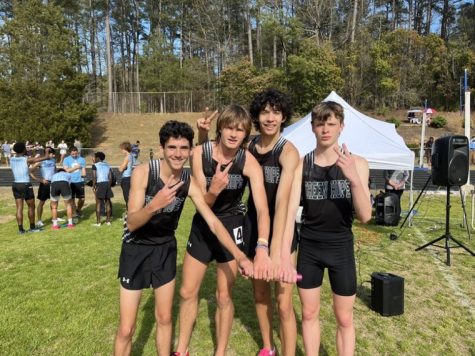 Track and Field
The Green Hope Outdoor Track & Field team started their season with a meet against Green Level, Apex Friendship, and Cary on March 8th- with the girls team taking first place. 
Impressive first place performances from the night include: Cameron Gregg ('24) in the 300 meter hurdles, Ivana Gomez ('25) in the 100 and 200 meter dash, Brinley Zalc ('24) in the 400 meter dash, Alise Turner ('25) in the 300 meter hurdles and Jenna Costa ('25) in the Girls Triple Jump. 
The team traveled to Cary High on March 16th for a tri-meet against Cary and Apex; the girls team continuing their streak and taking first place, the boys taking second place for the night.  
On March 18th, the team went to the Patriot Invitational Meet– going against multiple schools in the county. Alice Turner placed second in the 100 meter hurdles and Jenna Costa placed second in the Girls Triple Jump. Sebastian Percival-Shim ('24) placed first in the 800 meter run, getting a qualifying time for Regionals and Gavin Hansen ('23) placed third in the 1600 meter run. Ending the night on a fast note with the 4x400m Men's Relay placing first which consisted of Owen Zalc ('23), Andrew Vo ('23), Sebastian Percival-Shim, and Christian Wright ('23).
The Athens Friday Night Lights meet on March 24th was held at Athens Drive, with multiple competitors over the county. Anastasia Jeffcoat ('23) qualified for Regionals with a 5th place finish and Christian Wright placed second in the 100 meter dash, the team ending the night with multiple top 5 finishes. 
March 29th was a home meet against Panther Creek and Middle Creek, the team finishing overall in second. As the season has been going on, the team has been consistent in their training and after school practice, resulting in multiple time improvements and Regional qualifying times. 
Women's Soccer
Green Hope Women's Soccer has had quite the turn this season with their Coach, Jason Wolfe, stepping down due to surgery recovery. Without his involvement, senior captain Mckenna Blount says that "the season has become quite stressful for the team and has definitely put more pressure on some of the seniors." Being a senior, she says that this season is bittersweet because although she's growing as a person, she's sad to leave behind the team that she has been a part of for so long. Blount states, "Our chemistry has definitely improved from the beginning of the season, most of us knew each other already but the energy all together is more positive." Sophomore Abigail Brown has stepped up recently to be the goalkeeper which has been much appreciated by all players. The team's overall record is currently 1-6-2 and their conference record is 1-4, so they hope to continue to improve and finish the season on a positive note.