DCON 2023: Everlasting memories with Key Club
After four years of waiting, the 77th annual Key Club District Convention (DCON) took place on March 24th to 26th in Durham, NC. Due to COVID-19, many events, such as the DCON for North and South Carolina's statewide Key Clubs, have been postponed for the last four years. 
Representing new beginnings, DCON served as a way for all the clubs to commemorate their past year of service and celebrate the election of the new board of representatives. High schoolers within the state's Key Clubs were encouraged to participate in contests and district elections to help enhance their leadership skills during the convention.
Green Hope High School's Key Club won first place in the Scrapbook contest, along with two Lieutenant Governor Positions.
"I didn't know what to expect going into it because I had never been to one," stated Caroline Nguyen ('24), the District Chair Member for Green Hope High School. Like many of her fellow members, Nguyen expressed hesitance when initially going to the event. 
However, these thoughts on the convention changed after its interactive festivities began. Featuring live entertainment, a talent show, various competitions, leadership and life skill workshops, DCON had a wide assortment of things for the club's members to participate in. 
Students from differing schools had the chance to grow as groups and as individuals. "It was such a great opportunity to meet new people. I got to experience things that I didn't get to before when it comes to hearing other people speak," added Nguyen.
Among the club's many members, Hannah Jackson ('26) and Minchae Joo ('26) were the two students that won the Lieutenant Governor Positions from Green Hope High School. According to Joo, the application process for the lieutenant governors included a short speech with questions from their audience at DCON. 
Wanting to be more involved in Key Club, Joo found that the responsibilities of the Lieutenant Governor position would help her extend her leadership skills. "A few responsibilities include sending out regular divisional newsletters, attending club officer training, and most importantly communicating with the different clubs under my district and with other distinct board members as well," stated Joo.  
Many of the clubs' members expressed congratulatory messages to both Jackson and Joo after the results of their election were released. "I'm really proud of them for taking that step in leadership. I think it's something that will help them grow and develop especially as freshmen," added Nguyen. 
However, the excitement for the club at DCON didn't end there as GH's Key Club also won first place in the Scrapbook contest.Having worked on the scrapbook for an entire month, Charlie Jefferies ('24), the head of Key Club's photography committee and her fellow photography members were ecstatic by the news. 
"Working on the scrapbook was a really fun experience. It felt more like a hangout than preparing for a competition. We had a collection of photos we took throughout the year and sorted them by each event,"  stated Karuna Shanmugam ('26), one of the photography committee's members.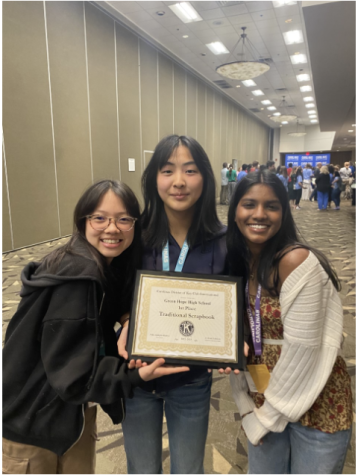 Out of the many competitions that took place at DCON 2023, the Scrapbook contest was one of the most popular competitions. Putting in compiled photos from all the memories their club had shared, winning the scrapbook contest put a smile on the committee's faces."We worked really hard on it and my friends and I were elated when we found out we had won," added Shanmugam.
DCON 2023 leaves GH's Key Club's members with a satisfactory experience. Having left Nguyen, Joo and Shanmugam with new takes on both their club and DCON. According to Joo and Shanmugam, the event had encouraged them to take more leadership positions in the years to come. 
"I knew that Key Club was a big thing, but I never really understood how big it was. It was inspiring to see all the other students who were elected for leadership positions and how hard they worked for it," stated Shanmugam. 
The three students all agreed that they'd certainly participate in DCON again in the future. Leaving all the members with a heartfelt impact, the memories they gained from DCON 2023 will last for years to come.