Running through obstacles: Dax Mahone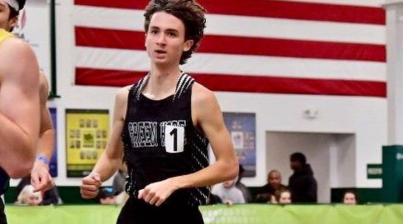 The Green Hope Track and Field team has continued its outstanding season, recently appearing at the national indoor competition. Green Hope Junior Dax Mahone sat down with the GH Falcon to discuss his running career and his plans for the future.
What made you start running?
I joined a running club in 7th grade to get fit for lacrosse.
What is your biggest accomplishment as a runner?
Team State champions in cross country, 2x nationals appearance.  
What are some of the goals you want to achieve as a member of the GH Track and Field team?
School record mile by the end of senior year. 4:14 outdoor 4:18 indoor.
What plans do you have after high school?
I plan on running in college and studying business, economics, or computer science.
How do you balance running with your academics?
Doing track and school is definitely hard with how much time I spend on both but they're both important so I know I need to dedicate time and set plans for myself to keep on track.
What is your pre-game routine?
Headphones on for 3 hours before the race to an hour before playing some Mac Miller, Freddie Gibbs, Tribe Called West, and Joey Bada$$. I also eat a peanut butter bagel two and a half hours before the race. I finish with a one mile warmup jog and some stretching.
What is your daily routine like as a runner?
I wake up at 6:40 sometimes early for a before school run. Then I go to school and run after at practice. Finally, I go home, stretch, roll out and shower. I do my homework, eat dinner, sleep, and repeat.
What advice would you give to your teammates or the Green Hope community in general?
The little things are important, I'm realizing that after some recent injuries. Have fun with it, when it starts to feel like a burden you're doing something wrong. Finding some people to train with makes the whole thing a lot more fun.
As he continues his track career, the GH Falcon looks forward to seeing his success.