Green Hope community celebrates Women's History Month
March is commemorated as Women's History Month in the United States, United Kingdom and Australia. The annual celebration memorializes the influential contributions of women throughout history and honors their enduring legacies.
Women's History Month originated from a week-long celebration in Santa Rosa, California planned by the Education Task Force of the Sonoma County Commission on the Status of Women in 1978. The following year, multiple communities across the United States hosted similar 'Women's History Weeks'. By 1980, multiple women's groups and historians successfully lobbied for President Jimmy Carter to declare the week of March 8th as National Women's History Week and in 1987, Congress proclaimed the entire month of March as Women's History Month.
Green Hope Social Studies teacher Mrs. Kimberly Mackey elaborated on the importance of Women's History Month. 
"Women's history month is a time to lift up broader historical narratives that reflect the contributions of women that go unnoticed as we reach beyond the historical narrative that has historically centered men," she said.
In fact, Mrs. Mackey was influenced by the history of women when she was younger. "I grew up in western New York where the women's movement in our country was launched," she said. "The rich local history was prevalent throughout my social studies classes and contributed to my interest in history by learning from an early age how women shaped that history."
Mrs. Mackey hopes the current role of women will continue to expand. "I envision the role of women in the future as co-equal partners across all facets of society," she said. "There's still room for progress not only with statistical representation, but also in ensuring conversations, decisions, and power dynamics substantially reflect that growth."
Multiple student-led clubs at Green Hope focus on the role of women in a variety of professions. One such club is Women in Politics. Club vice president Sanjana Juvvadi ('24) emphasized the group's goal. "Women in Politics basically works to bridge the political gender gap," she said. "We try to empower women to take a more active role in the political sphere."
According to Juvvadi, Women in Politics "hosts debates, discussions and presentations regarding women in history or political issues that impact the lives of women." The club functions as a forum for conversations on women-centered issues.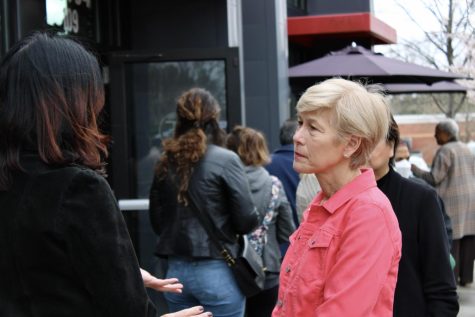 GH Women in Politics continues to seek equal representation for women. "Just looking at the political climate in the United States, it's clear that it is lacking a lot of women. If women make up 50% of the population, we should see that represented in Congress and politics," Juvvadi said.
The group is not just limited to girls; it opens its doors to boys seeking to learn more about the cause as well. Juvvadi stressed, "The club isn't just specific to women. We have a couple of guys who come to join discussions whenever possible. Feminism is for equality, so it is important for everyone to be aware of this, no matter the gender."
The club has had significant impacts on its members and the community. "I think it brings a lot of young women confidence, because we do a lot of active speaking activities. It gives a lot of women the chance to step up and say their views without feeling like they're going to be scrutinized," Juvvadi said. "The club gives them an environment where they can be comfortable, because it's a very women support women club." 
As women continue to push for equal rights, Women's History Month and women-focused clubs serve to bring awareness to the cause.