Redefining listening: The digitalization of music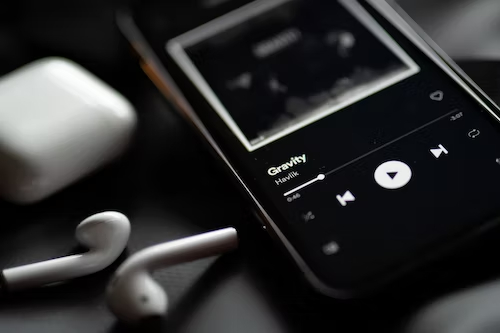 The digitalization of music is one of the most significant changes to the industry to date. Throughout the years, the art from has developed  from records, to cassettes, to CDs, and now streaming services. Billions of songs and artists can be accessed at the touch of a button. 
While the industry has surged since the 1990s, brought by the birth of streaming services, musicians are a dying breed. It's harder than ever to compete with the legacy artists ranging from Bob Dylan to Prince. 
Music is no longer always about being moved to create art or make a statement, such as 70s peace protest songs such as Neil Young's "Ohio" or Sam Cooke's "A Change Is Gonna Come", but about making money in a capitalist society. The goal is to make what sells and to reach the most audiences explaining why it is not uncommon for unexpected collaborations like "2Step" by Ed Sheeran, featuring Lil Baby, to gain listeners. 
Before entire discographies could be accessed with a cell phone, the music industry strived to sell complete albums to make a profit. But now, streaming is what makes the big bucks— regardless of how old the song is. The safest bet for producers is not to fabricate a new hit artist, but to repeat what was previously successful. 
With the right algorithms and an entire generation of new listeners, Gen Z, the old can become the new. After being featured in the Netflix show "Stranger Things", Kate Bush's "Running Up That Hill" reentered the charts, peaking at No. 1 on the Billboard Global 200. When released in 1985, the song only reached top 30 on the Billboard Hot 100, highlighting the 9000% stream increase after the feature in July 2022. This trend continued with  Gerry Raffertys' "Right Down the Line" after appearing in both seasons of Euphoria. 
This is congruent with social media platforms such as Tik Tok, reviving songs such as "Dreams" by Fleetwood Mac, "Gimme! Gimme! Gimme! (A Man After Midnight)" by ABBA, and "Love Grows" by Edison Lighthouse through trends and dance challenges.
The world now encourages listening to single songs— a small fragment of entire albums. Stripped of the images, the historical context, and the artist, what used to be part of the experience, simply doesn't matter in today's world. With an inconceivable abundance of choice, artists without an ounce of fame can be launched to success overnight. How musicians are perceived is simply defined by what has received the most streams, bounded not always by their best work, but a limited interpretation of who they are and what they stand for. 
In 2023, music discovery in its entirety is strange, senseless and completely detached from tradition. Although what the physical music era has been replaced with can not exactly be pinpointed, it is still an extremely fascinating matter subject to mutations.