Winter Sports Roundup
Student athletes push themselves despite COVID concerns.
It's February and Green Hope's Winter sports are in full swing. While many sports like indoor track and basketball had seasons cut short or canceled altogether due to COVID, Green Hope has no shortage of sports action this winter. We at the Falcon were able to obtain exclusive interviews with coaches and players alike to get the full scoop on Green Hope's winter sports. 
Men's Basketball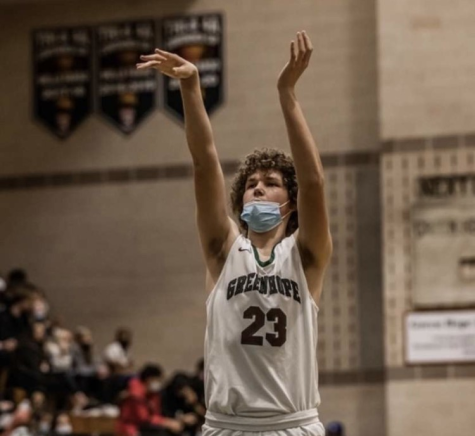 So far the Men's Basketball season has been filled with ups and downs and after the first eighteen games Green Hope sits at 4-8 in the conference and 8-12 overall. Throughout the season, head coach Alejandro Ellis's goal has been to "Win the games we're supposed to win." The Falcons have done just that, beating Green Level, Cary, and Middle Creek, but they couldn't get the fourth place spot in the conference after losing to Apex and going 3-4 in the first round of conference games.
In their second round of conference games, we're seeing the same results as last time as they've lost to Apex Friendship and Panther Creek and beat Middle Creek. Unfortunately, this time, they lost to Cary and will have to face Green Level and Apex in away games.
In their second matchup against Panther Creek, the score was 86-56 with the Catamounts having five players scoring in the double digits. PC simply couldn't be stopped in transition. This wasnt helped by Green Hope shooting only twenty percent from three-point range. Sophomore center Rafik Khismatov had this to say about the rivalry game," I felt the pressure for sure, but nothing new, I trusted my teammates, my coaches and played 110 percent. I always play hard, win or lose." In that game, he secured eight rebounds and helped stop a lot of the deep penetration and second-chance points that Panther Creek was getting.
In the next game they played Middle Creek at home who they had beat at the buzzer in their last meeting after a putback from senior point guard Kevon Riley. Kevon was a big part of their win yet again erupting for ten points in the 3rd quarter and hitting two threes back to back. Another player that was key to the win was Josh Bevan who went 3/3 from three in that game. He also had another good performance in last week's loss against Cary scoring fourteen points on 6-8 shooting. Josh says the key to him scoring more than usual was to," allow my teammates to trust me to have put the work in during practice and get a rhythm with shots. My work ethic has always made me stand out and now I'm able to use it towards scoring and not only defense." Josh and the Falcons will finish off the season against Green Level, Riverside and an away game against Apex to finish the regular season.
Swimming
Green Hope Swimming has not lost a single meet in the last four years, making them state champions in four of the last four years. That was until they lost earlier this year to Broughton who they projected to face at states. Lucky for our Falcons they were able to book their tickets to states after winning the SWAC swimming championship. In their last meet against Broughton, Green Hope was missing many of their top swimmers but will have had them back in their last few meets. Most of the Falcon's top swimmers are committed to, or being recruited by D1 and D2 schools. I had the chance to interview two of those swimmers, Keelan and Micheal Cotter who are both committed to NC State.
While many of Green Hope's swimmers are elite, Michael Cotter may be a level up from that. Michael had the honor to compete for a spot on the US Olympic team last summer which he described as a, "Surreal and eye-opening experience." He competed in a large arena which Cotter admitted to being abnormal compared to other meets," Simply being in a stadium with all of the top swimmers in the country comes with an aura of excitement, nervousness, and intensity, but as I was walking up to the starting block before my race, those feelings began to fade." He ended up performing in the 400 and 200 free and the 200 IM. Micheal plans on trying out again in three years and says, "Since the Olympic Trials are only every four years, there are at least three years of working your tail off when no one is watching to succeed in that one moment." Michael, who is clearly huge on hard work and dedication says," Everyone sees you standing on the podium but what they don't see is all the late nights, early mornings, studying, toil, frustration, and discipline that it took to get there."
He and his sister have both stepped up to a big role on the team and Keelan Cotter says that her goal for herself and the team is to, "get the school record for the 500 free and hopefully win another state championship with the Green Hope Women's team." With so many athletes looking to go far in high school and beyond along with swimmers like Landon Lloyd, Colin Whelehan, and Carter Satterfield, the sky's the limit for Green Hope swimming.
Indoor Track 
While Indoor track was canceled altogether in 2021 your Falcons are back and flying on the track and up the leaderboards in 2022. With states coming up in early February the Falcons have twelve state qualifiers that all could potentially contend for a state championship late this month. Although this indoor track squad has been successful the distribution of success between events has been a bit lopsided. Green Hope's men's cross country team that finished third in the state this fall has kept their momentum going into the indoor season resulting in ten of the twelve state qualifiers coming from the distance group. Senior captain Jacob Kurak who has qualified for four different events attributed "working hard" and "keeping it going through cross country season". "Keeping it going" is exactly what Jacob has done through the indoor season as he ranks inside the top ten in the state for the men's 1000 and is the leader of the men's 4 by 800m team that ranks second in the state. When asked about keeping up said success in the 4 by 800m relay to finish with a state championship, Jacob expressed the team still isn't where it should be stating, "I think we have a lot of untapped potential, we haven't run to our full ability". With three more meets until states, Jacob and the team still has plenty of time to improve on their already impressive mark. 
As previously mentioned Green Hope had no indoor season in 2021 making indoor track a new experience to many. Someone not included in that group is Green Hope's track and field coach, Coach Gardner who has coached track and cross country at green hope for four years and has coached nineteen years elsewhere. She credited Green Hope's inexperienced success to competitiveness between teammates stating, "these guys out here love to challenge one another, and love to challenge themselves". Green Hope has thrived off this competition but Coach Gardener still isn't satisfied, "My expectation is going to nationals, I think we've got a relay team and some individuals that can post good enough marks to make it to nationals". 
One of those individuals is senior Toria Roundtree who is debatably the best athlete on the team. In last year's outdoor season Toria dominated the conference, constantly finishing first and continued said dominance through the state championship finishing third in the shot put, and within the top twelve for the discus. When questioned how she keeps up such elite success Toria kept it simple stating "it's all just a mindset, doing what you have to do, getting it done, and then just trying your best every time". Toria's formula for success has held up this season as she currently ranks sixth in the state for the shot put. Green Hope's theme of dissatisfaction continued through what Toria said her goal was to close out her senior season as she said, "I really want to be able to finish first in the state for indoor shot".  Finishing first isn't Toria's only goal in her senior year. As the only woman thrower on Green Hope she said she wants to, "inspire incoming throwers, being a girl thrower isn't as easy, you're kind of looked at as not a girl. It's definitely something I want to help other girl throwers with." 
With nearly a month left in the indoor season and then outdoor season not long after, Toria and the squad still have plenty of time to accomplish their goals.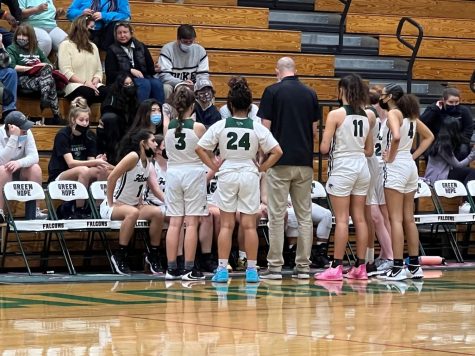 Women's Basketball
Contrasting Indoor Track's success women's basketball has had a bit rougher of a season. Currently standing at 2-14 women's basketball has left a lot to desire on the court. With a that has five underclassmen, inexperience is something that can be blamed for their lack of success. One of those underclassmen is sophomore Mel Mydosh who leads the team in scoring at nearly ten points per game. Mel, who is third in the conference for sophomore points per game, reacted coolly when asked if there was any pressure carrying the offensive load for Green Hope stating, "No, I just do what I do". With the Falcons having such a young team and Mel having such a good season Mel has taken up a leadership position on the team. Mel described this role as "To do the best of my ability all the time" along with "Being supportive of my teammates". This morale and scoring boost from Mel is something that will be much needed down the stretch as have multiple winnable games left on the schedule.
High morale is something that women's basketball has kept throughout the season, something that their head coach, Coach Denton chalked up to their strong chemistry and said that "morale comes a great deal from having common direction. The girls trust each other and know that they have each other's back." With such a young roster Denton believes this chemistry and trust will be extremely beneficial in creating sustainable success in the future, "The key to young teams is making sure to maximize time together to maximize chemistry. I am confident that growth and success are going to come. I believe that we have some youngsters on the team poised to be natural leaders next year." Another thing Denton emphasis was growth. With much of the conference in contention for a state title and Green Hope in a bit of a rebuilding year, Denton has his eyes set on the future, "My biggest expectation is that all involved in the program continuing to be positive and finding new ways for individuals to grow and fit into the overall team puzzle. Looking forward is paramount because we will return so many strong contributors over the next many years." This year might not be Green Hope's year for women's basketball but it's sure to say their year is coming up.
Wrestling
Wrestling a program that has been elite at Green Hope for as long as anyone can remember, is no different in 2022. Led by juniors John Domencic and Jackson Ealy Green Hope has been dominant in 2022 and recently picked up a big win against Apex on Senior Night.
We were able to talk to star junior John Domencic who finished first overall during a grapple in early December. When asked what the key to his success was, he laid it out plain and simple for us stating, "You have to convince yourself that you're better than the person you're wrestling, or you're not going to beat them". John has done just that through this year's wrestling season as he's racked up 21 wins as of late January. According to John, the team's energy is good heading into the upcoming postseason. While the team is full of younger athletes who aren't as experienced as guys like John or some of the seniors, he expects that "It'll be new to them but I don't think they'll be shocked". With Green Hope standing at fourth in the conference according to NCHSAA and having multiple athletes that will look to contend during the state championship, they're sure not to disappoint come postseason.
That positive sentiment is something that wrestling head coach, Coach Gursslin can agree with. "We have four guys that can probably qualify for states, and we have some that are probably close," he said. Gursslin expects that for his guys to "push through" and make it to states in the coming weeks. In the meantime, practice will look a little different for his group. While they normally spend a lot of time on technique and live wrestling coach Gursslin plans for a lot of conditioning in the coming weeks. He stated that "a lot of times we find that a wrestler that's evenly matched with his opponent will pull it out better in the end when they're in better shape". With under a week until regionals, this group will be training hard for their coming competition. Be sure to wish them luck on their regionals this Friday!