End of season sports roundup: Winter edition
Women's Basketball
Green Hope's Womens basketball finished their season with an 11-11 record. While they were unable to win their final game against Green Level, there is no doubt that the team has improved greatly with their new coach, Chasity Melvin, from their last year record of 4-18. Special shoutouts to:
Abigail Brown ('25) with 16 points per game, 8.2 rebounds per game, and 1.3 blocks per game

Khasidy Boston ('23) with 2.7 steals per game

Sophia Fralin ('23) with a 57% field goal percentage

Uma Surkund ('24) with a 35% 3 pt field goal percentage
Wrestling
With the state championships finishing last week, the wrestling season at Green Hope High School has officially come to an end. At the end of the regular season, on January 28, Green Hope wrestling finished seventh with a 16-4 record. 
Following the postseason, ten Green Hope wrestlers qualified for the Mideast 4A regionals and made the trip to Southern Pines, NC on February 10-11th. The ten who qualified were:
Seniors: Jackson Ealy ('23), John Domencic ('23), David Pries ('23), Xander Weightman ('23), Zach Benavente ('23), and Danny Xia ('23),

Junior: Josiah Moore ('24)

Sophomore: James Bradley ('25) and Zain Mehmet ('25)

Freshman: Hutson Catullo ('26)
Ealy and Domencic came on top and each seized a regional championship for their respective weight classes. Both wrestlers qualified for the NCHSAA State Championships in Greensboro on February 16-18th. John Domencic was able to finish third for the 285 lbs weight class and Jackson Ealy finished in fifth for 126. Following his podium finish Domenic stated, "It wasn't my goal to get 3rd, but I'll have all of college to win a national title and I'm very thankful for a good team that's like a family". 
Indoor Track 
Indoor Track kicked off their season on November 19, at Reagan High School, with Luke Young ('23) and Liam Young ('23) placing 22nd and 31st, respectively, in the 3200m run. 
At the Polar Express meet in Winston-Salem, students demonstrated significant growth as Owen Zalc ('23), Christian Wright ('23), Cobe Wright ('24), and Kaiden Granko ('23) placed second in the men's 4×200 relay. Additionally, Seamus O'Driscoll ('25) placed sixth in the 1600m run. 
The girls also excelled, with Jenna Costa ('25) and Alise Turner ('25) placing fourth and sixth, respectively, in triple jump. 
At the SWAC meet at Cary and Middle Creek High School, the Falcons gave strong performances, with Ryan Pigora ('24), Sean Hill ('26), Bashiru Bah ('26), Vladimir Semyanko ('23) placing fifth in the 4×400 m relay, Kaiden Granko ('23) placing fifth in the 55m dash, and Christian Wright ('23) placing third in triple jump. 
The girls showed equally strong performances, as Alise Turner ('25) placed fifth in the 500m dash and sixth in the 300m dash. Sarah Smith ('25) took home first in the 3200m run and Tyler Spriggs ('23) placed seventh in the high jump. The team wrapped up the end of the year at the Reindeer Classic in Winston-Salem, as Andrew Vo ('23), Christian Wright ('23), Owen Zalc ('23), and Sebastian Percival-Shim ('24) took home first place in the 4x400m relay. Jenna Costa and Alise Turner placed third and fourth, respectively, in 55m hurdles. 
The team started off the season strong at the JDL High School Classic in Winston-Salem, with Luke Young ('23) placed first in the 1600m and 3200m run. Several star performers include pole vaulter Anastasia Jeffcoat ('23), who consistently dominated, placing in the top five seven times throughout the season and Jenna Costa ('25) who placed top four five times in the triple jump. 
The team performed well at the NCHSAA 4A Indoor Track State Championships, with Andrew Vo ('23), Dax Mahone ('24), Sebastian Percival Shim ('24), and Gavin Hansen ('23) placing third in the 4x800m relay and Christian Wright ('23), Owen Zalc ('23), Kaiden Granko ('23), Sean Hill ('26) placing fifth in the 4x200m relay. The team has received an invitation to Nationals, set to take place from March 10 through 12 in New York City.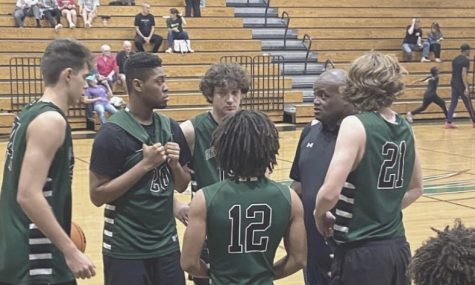 Men's Basketball
This season showed strength and persistence from the Men's Varsity team. The boys fought hard until the end and concluded the season with a loss against Panther Creek on Valentine's Day with a score of 73-83. Although the season proved challenging, the team celebrated multiple victories against Athens Drive, Apex Friendship, Middle Creek, J.F. Webb, Cary, and, most recently, Apex, for an overall record of 6-18. Despite the undesirable ending, this season delivers room for improvement for the team and an opportunity for growth in the next season.
Top players this season included:
Bence Koloszar ('23) averaged 11.8 points per game, totaling 283 points this season and 7.9 rebounds per game for a total of 190 rebounds this season.
Walker Hamilton ('23) averaged 9.8 points per game for a total of 234 points this season and 2.3 assists per game, totaling 55 assists this season.
Grayson Cuffe ('24) averaged 8.3 points per game for a total of 190 points this season and averaged 1.4 blocks per game, totaling 31 blocks this season.
Swim and Dive
The Swim & Dive team finished off the season with regular meets, Regionals and States. With the last regular meet on January 16th against Cardinal Gibbons, Heritage, and Knightdale resulting in a 393.5 point win; the team moved forward as they placed first place in the SWAC Conference with 963 points over Apex Friendship, Apex, Green Level, Cary, Holly Springs, Panther Creek and Middle Creek. The 4A Central Regional Championships came around on February 2nd at Greensboro Aquatic Center, where the Women's Swim Team placed first and our Men's Swim team placing second and our divers in the top 20 as well. The team, triumphant in their successes, moved on to the 4A State Championships with first place finishes from Mere Whelehan ('25) in the 100 & 200 freestyle, and second place finishes from Landon Lloyd ('24) in the 200 yard freestyle and Colin Whelehan ('23) in the 100 & 200 yard butterfly. Relays of swimmers Kyley Lloyd ('26), Mere Whelehan, Mia Jeltema ('25), and Andie Quisumbing ('24) swam well with a second place finish in the 400-yard free relay and the Men's 200-yard relay consisting of Brian Farrell (´24), Landon Lloyd, Garlen Mei (´23), and Colin Whelehan got on the podium to withhold a third place finish. The Women's team ultimately got third in the state and the Men finished in fifth! As the season progressed, undefeated regular meets with achieving podium finishes at a state level ended off the dominant season of the Green Hope Swim & Dive team.