Mastering the mat: Jackson Ealy
Jackson Ealy ('23) grew up in a wrestling family, surrounded by the state's top wrestlers. Ealy began his Wrestling career in elementary school, and since then he has dedicated many years to perfecting his skills. His hard work has paid off, setting numerous records for Green Hope as he continues to compete at the highest level.
Recently, the GH Falcon spoke with Ealy to learn more about his Wrestling career and his plans for the future.
What made you start Wrestling?
I am from Pennsylvania and it's a big sport [there]. Both my uncles wrestled and they were very good, they won state championships. When I moved to North Carolina, I wanted to follow in my uncle's footsteps but my parents didn't allow me to wrestle. Then I went to PE class in elementary school and I was wearing a wrestling shirt, and my PE teacher saw [it] and then he gave me a card to the wrestling club where I started wrestling.
What is your biggest accomplishment as a wrestler?
Coaching my sister. I think that's what I'm proud of at the moment because I get to see her grow as a person and a wrestler. 
What are some of the goals you want to achieve as a member of the GH Wrestling Team?
This week, I have states I'm hoping to win and I have a good spot in the bracket, just where I want to be. I'm looking forward to that and looking forward to tearing the whole bracket up, hopefully, I can get to the finals and win. I want to be the second state champion in Green Hope history.
What is your daily routine like as a Wrestler?
It depends on how much weight I am cutting. In the morning sometimes I wake up and go for a run if I need to get my metabolism up, and then I'll shower and come to school or I'll go on another run if I need to. And then I'll go to practice, and come back and do some homework.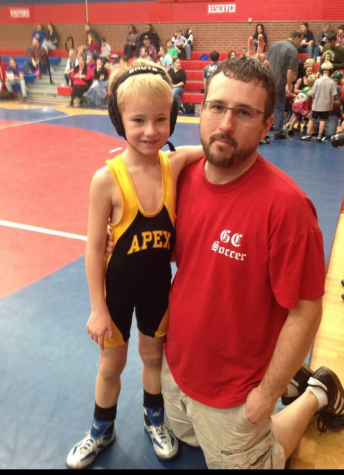 What plans do you have after high school? 
I want to wrestle in college but I'm not entirely sure. Hopefully, after this state tournament, I'll have a little bit more guidance but I'm not too sure what I want to do academically or where I want to go. 
What is your favorite memory of being on the team?
Probably freshman year when it was the semi-finals of regionals. If I won that match I would be going to the state tournament and the regional finals. It was a tough match, and I lost to the same kid two times and it was a little bit of a rivalry. He always beat me by one point and then this match went into overtime. I eventually scored on him in a sudden-death victory in the last seconds of the period and I won the match. I remember my teammates going crazy and my coaches going nuts. It was the first time in at least five years since there was a Freshman in the regional finals and it was such a good feeling. And then I went on to win the regionals. 
What is your pre-game routine?
I kind of do whatever my body tells me to do, whether it's just jumping up and down, or shadow wrestling but a lot of people listen to music. I sort of just get a song stuck in my head and it keeps the thought of the match out of my head and it keeps me from overthinking and it allows me to focus on myself and be relaxed. I like to wrestle relaxed and have fun.
What advice would you give to your teammates or the Green Hope community in general?
The season is not over when the seasons are over. In wrestling, the off-season is really where people make jumps and strides and you're really not gonna advance as much as you want to or hope to if you don't go to off-season club practices and tournaments. You're really not gonna get much better if you're not doing the extra steps. 
As Ealy finishes up his wrestling career at Green Hope, the GH Falcon wishes him the best in the next chapter of his career!