Law and Justice Club places second at regionals
Last Saturday, Green Hope's Law and Justice Club participated in the North Carolina Advocates for Justice regional competition. The mock trial occurred at the Cumberland County Courthouse in Fayetteville. While the club did not win to go on to the state-wide competition, they placed second out of ten teams.
A mock trial is a competition where teams get a legal case that they study and ultimately compete in an actual legal practice, in which they argue their case in front of a judge and jury. Competition team members can play the roles of either witnesses or lawyers.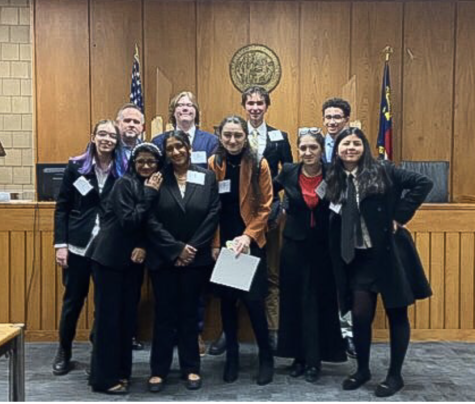 Green Hope beat Enloe Magnet High School in the first round and Research Triangle High School in the second round before an unfortunate loss against The Village Christian Academy in the finals. They also outplaced Cardinal Gibbons High School and Broughton Magnet High School. 
Various team members went home with awards. Ipsi Vasipalli ('25) and Tyler Herrick ('25) both received best witness awards for Round 1 and Round 2, respectively, and Lara Teemo ('23) received the best attorney award for Round 2. 
Multiple other members performed strongly, like Diya Ramakrishnan ('26) and Maddison Saliba ('24) in the attorney role. Additionally, students portraying witnesses had excellent performances, including Avin Harrington ('25), Carlisle Sullivan ('24), Maria Lopez Vera ('23) and Sam Dare ('24).
Sadly, the team came up just short of advancing to the State Finals, but they were still highly pleased with their performance. The team worked ambitiously before the competition, preparing for multiple months and practicing for hours at a time. "We intensively reviewed the case material, memorized immense amounts of information and had to familiarize ourselves with legal concepts and courtroom procedures," stated Saliba. 
The club had help from teacher advisors Mrs. Kathleen Holland and Mr. Ronald Richardson. Also, attorney at law Adam Hopler acted as an advisor and mentored, along with Gurvis Law Group, who sponsored the team. 
Regionals marked the end of an impressive season for the law and justice club. Although the competitions are over for the year, they aim to make it to states in the 2023-24 season.