Closing the achievement gap through new equity policy
In the 2021-22 school year, Wake County student proficiency percentages revealed a staggering achievement gap between students of different races and ethnicities. Asian students had a proficiency percentage of 87% while White students demonstrated 77% proficiency. On the other hand, Hispanic students had a proficiency of 40% and Black students were at 37%.
In November 2022, the Wake County Public School System (WCPSS) School Board addressed this issue by implementing its first policy promoting equal student treatment and performance. 
The two-page policy broadly defines the school board's goals, such as using "disaggregated data" to "inform district decision-making and strategic planning" and providing "students with equitable access to a high quality curriculum, effective teachers and principals, support facilities, and sufficient support services." There are currently no specific actions for WCPSS schools to take.
WCPSS District 9 school board member Ms. Karen Carter described the policy as "working to create inclusive, supportive school environments across the district in which all students can succeed and be treated with respect and kindness."
"
It [the policy] does provide clear language of a commitment to work at increasing the equity of opportunity across the entire district"
— Dr. Jim Martin, WCPSS District 5 School Board Member
However, the equity policy differs from past board policies because it is not a formal list of guidelines. Instead of requiring schools to complete specific actions, it highlights equity as one of the county's central goals and is composed of suggested strategies to analyze and improve learning environments across the school system.
Dr. Jim Martin, the WCPSS District 5 school board member, said, "I see the draft language primarily as a statement of perspective and values. It is not like standard governing policies."
While the policy is not a specific set of rules, it is transparent in its objective. 
"It does provide clear language of a commitment to work at increasing the equity of opportunity across the entire district," said Dr. Martin.
After the equity policy was approved on Nov. 16, Green Hope developed its own process of creating an equitable learning environment for its students. 
Green Hope has a noticeable achievement gap between students of varying demographics. For example, 67.99% of Asian students and 57.56% of White students earned As in the 2021-22 school year. Meanwhile, 49.73% of Hispanic students and 30.99% of Black students earned As.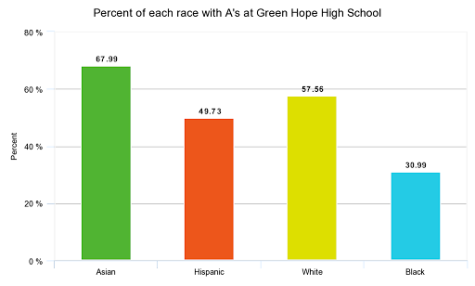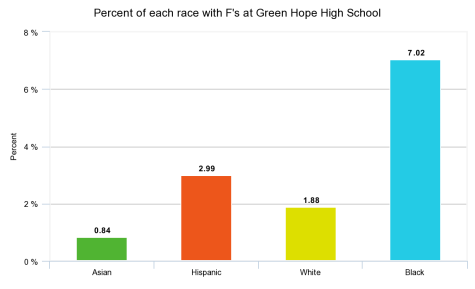 Green Hope Principal Mrs. Alison Cleveland provided the GH Falcon with a glimpse of the administration's plans for equity at Green Hope. 
"We are in our infancy stages. At the outset we are first looking to see the places where inequities exist within Green Hope," she said. "Then we will seek to understand why they are there and the impact they have . . . Lastly, we will take action to interrupt those practices, policies, [and] experiences."
Due to the policy's open-ended nature, Mrs. Cleveland predicts that the application of the strategy will be gradual. "I imagine that the implementation will not result in an immediately noticeable change as the district and each individual school are in the early stages of understanding how to and where to apply it," she said.
Although it is a step toward improving the quality of education in Wake County, many teachers are unaware of the new policy.
Green Hope English teacher Mrs. Melanie Diorio said, "I didn't know that there was a board policy that was put in place." 
However, application of the policy may serve to highlight it to the general public. "I know that there are ideas going around about increasing equity in this school, which brings these issues to light," said Mrs. Diorio.
Despite lack of awareness surrounding the policy, Mrs. Diorio is supportive of its development and the changes it may bring. "Any type of policy having to do with increasing equity or at least bringing it to the forefront and making people aware of it is very positive," she said.
Students also agree that an equity policy would be a positive change to their education. Freshman Class President Ian House ('26) defined equity as a "means to making efforts toward treating everyone the same." 
House believes that "no matter their gender, culture, hometown, or family characteristics, everyone should be treated the same and efforts should be made to accomplish that goal," which is why "it is important to have a county-wide policy of equity."
The equity policy shows that parents, school administration and board members alike prioritize the ability of students to achieve academic success. 
"
It is crucial that we are brave enough to disrupt what is in place that does not include, value, or recognize all students, staff and families."
— Mrs. Alison Cleveland, Green Hope Principal