Class of 2023: Celebrating mid-year graduates
On February 1st, seven students from Green Hope chose to graduate mid-year, starting a new chapter of their lives one semester early. The 2023 Commencement Ceremony was held in the Auditorium at 5 pm, with multiple family and friends coming to support the graduates. After the ceremony, food and refreshments were served in the library after the ceremony to celebrate.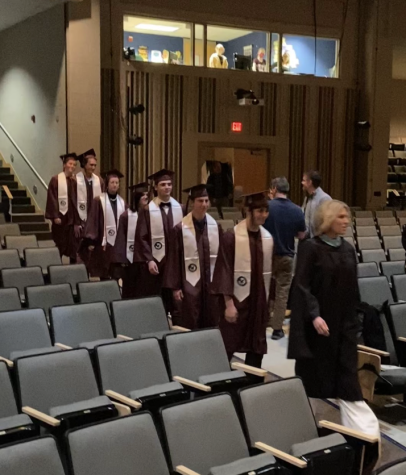 From pursuing internships to attending college in the fall, these students have their next steps in mind for a new period in their lives. Student David Bass ('23) has chosen to continue his passion for agriculture and is starting an agricultural internship with World Wide Opportunities on Organic Farms (WWOOF). "I will be working in either Raleigh, Durham, or as far out west as I can," said Bass.
One graduate, Charlie Getz ('23), is getting in touch with the outdoors in a different way. He said, "I intend to hike the Appalachian Trail. It's a five-month hike covering 2,200 miles from Georgia to Maine, and then I'm attending Appalachian State University in the fall."
In addition to these graduates, some have fulfilled requirements earlier- Grayson Kaufman ('23) has been a graduate since December. "I currently take classes full-time at Wake Tech College, and I am also working full-time. Starting in the fall, I will attend a four-year university to study Psychology," said Kaufman.
Students who graduate early fulfill the same graduation requirements as all other Green Hope Graduates, as required by WCPSS and the State of NC. These students have pathways set in mind, expressing excitement and hopefulness for the year to come. If students are interested in graduating early, they should meet with their counselor during Junior year to make a plan.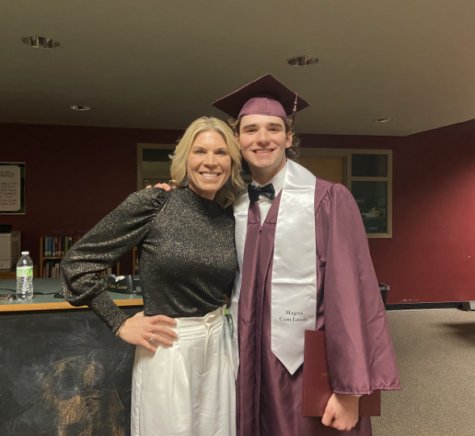 The Commencement Ceremony for the early graduates was memorable–a great crowd of family and friends showed up to applaud as graduates walked across the stage to receive their diplomas. Singers from the Green Hope Choir also sang a beautiful, bittersweet song to commemorate the graduates. As the ceremony ended with happy tears, graduates, families and friends were invited to the library.
The library was decorated with balloons and a senior slideshow of their favorite memories and accomplishments at Green Hope. Principal Alison Cleveland was delighted to see the Green Hope community close together and have many students come to celebrate the early graduates. Cleveland said, "I was really surprised and impressed in a good way. It shows how connected our students are and how much they celebrate each other. I saw rows of friends in the audience celebrating each other. That's unique, I think to Green Hope."
As graduates were eager to start their lives from a new beginning, the day's atmosphere was ecstatic–everyone being optimistic and lighthearted about the future. Although the group was small, they were extensively recognized for their hard work throughout high school, with a personal group of people to support them.