2023 East Central All District Band: Band students earn a chair
The All District Band is a group of middle school and high school band students, which are chosen through auditions. These are blind auditions, in which the judge will be facing the other way when a person is playing to eliminate bias. In the auditions the players will do a sight reading, a prepared solo, and their scales. The students prepared for this by doing mock trials in class, so that they got a chance to practice being nervous, to hopefully diminish the amount of nervousness they experienced when auditioning.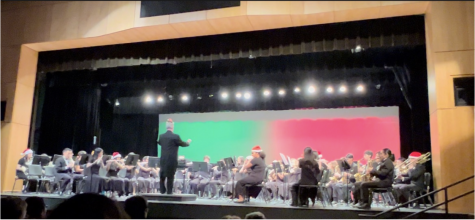 One student who  auditioned, Janelle Hu (26'), described to us  how she prepared for the auditions. She stated, "The music for the audition comes out around the first month of school, so I would practice my solo, scales, and sight reading every week, though I mainly practiced everything within the last two weeks." We asked her what the biggest struggle she faced was, in which she replied, "Not just staying consistent in practicing, but also what to practice. In my solo I always found that new problems arose whether it was different types of articulation I was messing up on or I was rushing in some parts." She added that one of the ways she prepared was by imagining herself in the worst position possible, and messing up everything, and just thinking about how she felt. In other words, preparing for the worst helped her to play her best. The last question we had for her was "what do you look forward to most about being in the All District," to which she responded, "The clinic most definitely. It's like two days and you just kinda go play music with a bunch of other really talented musicians, and it's pretty worth it I would say, and you get to miss school too." Overall, Hu is one of many students who exemplified the work and dedication needed to get into the all district.
The band adviser, Mr. Flowers, described what the most important part of the auditions were. Mr. Flowers stated, "I feel like the audition process makes them better players, I'm proud of all the students that made it obviously, but you know I'm really proud of all the students that auditioned because spending the time on working on scales and preparing the solo makes you a better player, and spending time doing that is what's really valuable." He reinforced the idea that even those who auditioned and didn't make it, still gained valuable experience, thus making them an even better musician. He ends by saying that the next goal these All District Students should have is the All State Band. 
All in all, the All District audition experience benefitted students in a multitude of ways. Students were exposed to new social experiences and had to learn how to multitask efficiently to create music with different layers and diverse sound. These musicians also learned how to conquer their stage fright and how to navigate new experiences. Band overall provides a sense of community, and the All District allows young musicians to connect with others that share the same passion as them. As a whole, the All District audition experience allowed all students to become more talented musicians.