Girl Scouts programs foster future leaders
Countless changemakers, leaders, and advocates within the Green Hope community started their involvement with surprisingly humble beginnings: selling cookies in girl scout troops.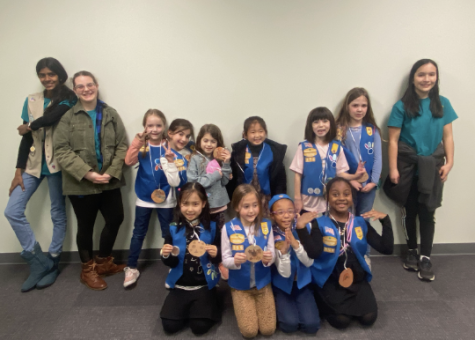 On Friday, January 13, girl scouts of the Daisies and Brownies troops of the North Carolina Coastal Pines Girl Scouts collaborated in a cookie-selling fundraiser at First United Methodist Church. Funds generated from cookie sales are used to support a variety of opportunities the program offers.
In second and third grade, Brownie Girl Scouts taught girls in the Daisy Troops the ins and outs of selling cookies, handling money, and communicating with customers. Participation in troops encourages engagement and development of leadership skills and experiences that are valuable in future service efforts, notes Cassidy Wright, Social Media Specialist at North Carolina Coastal Pines.
For younger girl scouts, foundational leadership and science, technology, engineering, art, and math (STEAM) activities are emphasized. Wright said, "[The] annual TechnoQuest event that provides girls with an opportunity to explore STEM, [and] workshops that teach skills in first aid, environmental sustainability, and internet safety truly set up [young girl scouts] for success."
Starting as young as five years old, Daisies and Brownies troops encourage budding leaders to make a difference within their schools and neighborhoods. The Manager of a Daisy troop attending the Sally Cookie Rally, Patricia Scrivner, got involved in the girl scouts through her daughter's participation in the program. She now helps order cookies and organize events for the Daisy troop.
Later on, Juniors and Cadettes are given the opportunity to expand beyond previous ventures and join an after-school science, technology, engineering, and math (STEM) program or explore the outdoors with sustainability-related activities. Junior Girl Scouts can work towards a Bronze Award, furthering their preparation for a Silver and Gold Award, the highest honors granted to Girl Scouts that create lasting impacts in their communities.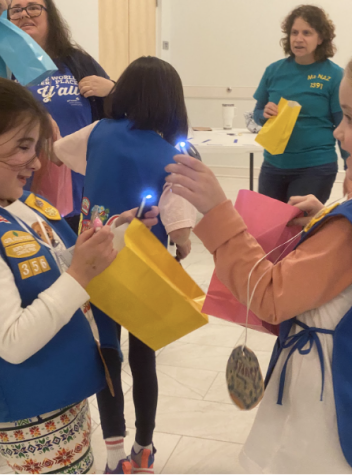 A Girl Scout since kindergarten, eighth-grader Emma Lee exemplifies the program's impact on shaping young leaders.
"Something we did for the Bronze award was cleaning and redecorating a homeless shelter's playroom and making a bee fountain," she said.
Speaking fondly of camping trips and activities with her troop, she said, "Many of us have built a special bond which helps because I know I have a lot of people to rely on."
Lee found her passion for animal welfare through the program and intends to initiate service projects to advance advocacy for the issue. "Through Girl Scouts, I have visited an animal shelter and learned about problems with pets, and have created shelters for stray/feral cats."
Service project initiatives encompass donation drives, tree-planting events, military appreciation initiatives, or any issue that Girl Scouts are passionate about. "[Recently], two Girl Scout Troops from Pitt County, [North Carolina] packed 50 bagged lunches for [the] Community Crossroads Center, an organization that serves those experiencing homelessness," said Wright, detailing several initiatives Girl Scouts have launched in the past. "Another Girl Scout worked to have June designated Scoliosis Awareness Month in her town for her Gold Award project," she said.
Wright's connection with the organization is deeply rooted in her own experience as a Girl Scout. "I was a Girl Scout for 12 years, starting in kindergarten, and I now work full-time for the council," said Wright. She added that the Girl Scouts provided her the liberty to explore and identify passions, learn from mistakes, and become a part of a lasting community- an experience she hopes to impart to future Girl Scouts.
"
[Girl Scouts] is truly a welcoming, inclusive and supportive place for young girls to thrive and grow into brave young women.
— Cassidy Wright