Black Falcons Soar to State Championship Victory
The Black Falcons win their 10th state championship.
"
As a senior, it's a great way to end my time here as a Black Falcon."
— Abel Lu
After six grueling hours of intense focus, the Black Falcons emerged victorious with a state championship win in the U.S. CyberPatriots competition in December. It's a moment members of the Black team have been waiting for all season. 
"After placing second in states last year, taking home the gold this year felt extra meaningful. As a senior, it's a great way to end my time here as a Black Falcon," team member Abel Lu said.
The Black Falcons represent a STEM-focus on cyber security.  This state championship adds to the Black Falcons' impressive record, which now totals around 10 state championships in the last 15 years. Mr. Gaw, the team's coach, has been there every step of the way.
"Every year the experience gets better," Gaw says, "because the teams galvanize just that much more."
Gaw went on to praise the team's success during the pandemic, crediting president Daniel Turk and the rest of the black team, who have invested a large amount of time in developing their technology skills.
U.S. CyberPatriots, the competition the Black Falcons compete in, has several different disciplines: Windows, Packet Tracer, and Linux.
Callista Holleschak specializes in Linux, and worked hard to build her knowledge over the season. "Each night for the whole competition season, I would spend hours researching different vulnerabilities for my operating system, creating game plans for competition and analyzing past competitions, working on practice forensics questions, and practicing securing my own computers," Callista said.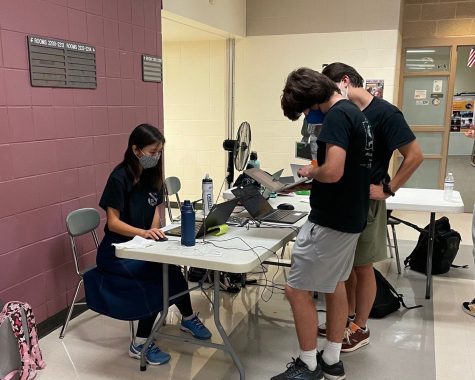 But no matter how much preparation the team does, there's always an element of stress involved. "It can be stressful at times to participate in such high stakes competitions," said President Daniel Turk, "but the great people I have met through the Black Falcons have made it all worth it."
All the team members echoed this sentiment, saying that competitions are tough, but the team camaraderie they've formed has been a core part of their experience in the Black Falcons.
As the Black Falcons look to the future, senior members will be continuing on to college as underclassmen rise to fill their place. Mr. Gaw hopes to continue to instill the importance of goals and direction in his team members.  He wants to expose students to ethical hacking and cybersecurity. And, he says, "winning is good, too!"
Students interested in joining the Black Falcons should look for an announcement sometime this month about open applications. There will be opportunities to try out for the competition team, the Nest (the training wing of the team), and Special Projects (coached by Ms. Yates and Ms. Dry, working on projects such as app development).