DECA: Dominating Districts
On December 6th, Green Hope DECA traveled to the Raleigh Convention Center to compete against high schools from Wake County. DECA is an international organization that provides crucial business knowledge and motivates budding entrepreneurs to improve their futures.
Shuban Gouru ('23) placed first overall under Hotel Lodging & Management, and 19 more of DECA's members received medals or awards.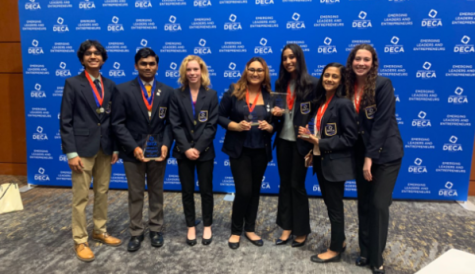 Rupali Kishore ('23), Green Hope DECA Co-President, stated, ¨The road to getting to districts has been amazing, and during the process, my passion for business and DECA itself has helped me guide myself, and the board grow to its full potential.¨ 
Within Kishore's role as Co-President, she helps guide the members to be better leaders and competitors. She explained that to prepare for the most recent competition, they "gave numerous attended workshops" to the members and "did practice role plays in groups." She expressed that everyone on the board played a significant role in helping the club achieve its goals.  
After 20 of DECA's members received individual awards, Kishore is proud to be part of such a dedicated and successful community. She praised the Assistant Vice President of Marketing, Yash Gupta ('25), for his excellent effort in designing the workshops and making the presentations for the club sessions. 
The club's membership has virtually doubled since last year, signaling its rapid growth. DECA hopes to return to Internationals soon; board members have expressed that due to their progress so far, they believe that continuing to push their members will result in fantastic results in the near future.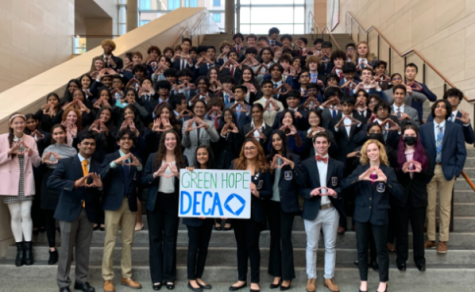 Mr. Harrison Ray, one of the club's advisors, has high hopes for the club achieving greater awards in the upcoming state competition in February, leading to their entry into Nationals. Ray plans to hold many more workshops, club meetings, and roleplay practices to help the DECA members place higher in competitions, which they are eager to do. 
Recently, the club had alumni come in and share their experiences and advice on what it takes to place in competitive competitions like Districts. Along with that, the members also took part in many board meetings to discuss their best and most strategic plans to rise above other schools. 
Green Hope's DECA club is not only successful, but it takes the practice and education of business seriously while also making it fun and engaging. DECA is known to be a great place to make more friends, find new goals, and plan for students' futures.