A visit to the monthly market: The Cary Flea and Food Market
The Downtown Cary Food and Flea Market, a monthly market, opened its doors for December 11, 2022. Artisans from the local area were welcome to sell their products from 12pm-4pm. 
While it only opens once a month, the Cary market is always full of new finds. From art, to jewelry, and even food, there is something for everyone here. It was created to promote local businesses in the Cary area and has been going strong for the past eight years. The Food and Flea Market has become a great opportunity for vendors to take their craft to the streets in downtown Cary.
The Cary Flea and Food market is located by the Fidelity bank entrance and expands to the parking lot in the back. On December 11, more than fifty vendors set up shop, accompanied with live music. One of the vendors, the owner of Borahae Crochets, Penny Wen, was out selling handmade crochet plushies. She opened up her business back in 2020, sharing her talent and skills with people through her own art form. There is so much talent being showcased at this market, so if you find yourself having time for a shopping spree, definitely take a look here!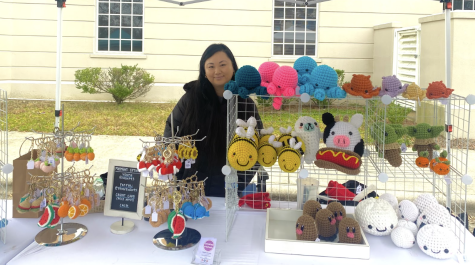 Looking around, there were multiple families hanging out at the market. Especially in the parking lot behind the bank where there were many  vendors advertising their appetizing cuisine and refreshments. While the adults bought food and locally-crafted beer and wine, the kids were able to enjoy sweets from neighboring stands. There is a range of options, whether you are fifty or five, there is a high chance you will find something you enjoy while supporting small businesses in the area. Maybe you will find a new favorite food at the market!
The local businesses covered many different grounds, there were shops for both kids and adults alike. Stay tuned for more information on upcoming dates, and check the Food and Flea Market facebook for a chance to visit the market next month!