Cary Christmas Parade marches on with additional safety precautions
The Town of Cary's Jaycees Cary Christmas Parade kicked off with the perfect opening for the festive holiday. Following the Tragedy at the Raleigh Christmas Parade three weeks earlier, the Town of Cary added necessary safety precautions to ensure the protection of those in the parade.
Cary Jaycees, a community service organization responsible for organizing the parade, enforced several safety implementations after the Raleigh Christmas Parade resulting in the death of 11-year-old Hailey Brooks who was struck by a reckless truck driver. 
New rules were instituted in an attempt to prevent similar accidents from occuring, and prohibited parade participants from throwing candy to spectators in an effort to keep bystanders off the road and requiring all drivers to attend a safety briefing before the start of the parade. Other precautions include placing cars between floats and walking participants and limiting the number of participants on floats to 16, while professional floats are capped at 12 participants  
Statements made by local public safety officials echoed similar sentiments, and said, "Safety is paramount, and we'll continually monitor and evaluate any new information or concerns as the parade date approaches and make any necessary adjustments to plans and protocols up to that date." 
The parade started at 2:00 PM on December 10, 2022, beginning on E. Chatham Street, and proceeded to turn onto Dry Ave, in the lively, historically-rich streets of downtown Cary, and eventually ending at the Cary Arts Center two hours later. 
The start of the parade was delayed due to a member of a high school's marching band suffering from a "fainting spell", said Town of Cary officials. The performer was treated by on-site EMS, and was able to be safely reunited with her parents.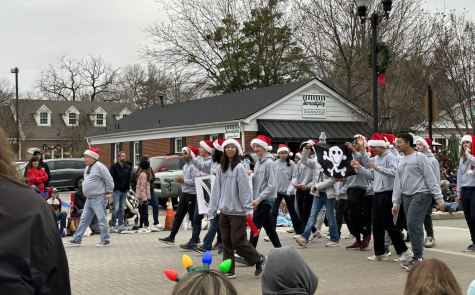 The remainder of the parade proceeded smoothly, with a variety of eye-catching floats, enjoyable marching band performances, and appearances from several student groups. Most notably, Green Hope's cybersecurity competition team, the Black Falcons. The members were able to spend time outside the computer lab with one another, while sporting matching red Santa hats.
Team member Katie Biddle ('25) said, "The parade was great! It was a cool way to spread the holiday spirit in the community, and it's always fun to spend time with the team outside of competition." Biddle expressed her hope to attend the event the following year as well, and said, "Hopefully, we can do it again!"
The 2022 Cary Christmas Parade commenced in a safe and festive atmosphere, as onlookers celebrated the vibrant holiday season that is yet to come.