Hitting the mat and defying stereotypes
Wrestling is overwhelmingly male-dominated, with females making up less than 10% of all high schoolers participating in the sport. Clara Ealy ('25) is among this minority, and she embraces the challenge.
Currently, Ealy is one of four girls on the Green Hope wrestling team of 45 people. In an interview with the GH Falcon, she expanded on her experience submerging herself in this "masculine" sport.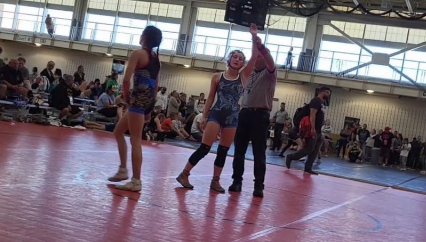 Last year, Ealy's older brother, Jackson Ealy ('23), inspired her to start wrestling, and she fell in love with the sport as she progressed through her first high school season. Typically, she wrestles the 106 weight class, but for state and national tournaments, she reduces her weight to 100.
Not only was the 2021 season her first time participating in the sport, but she was also the only girl on the team at the time. Although Ealy is thankful for the group she had, she admits that there are unique struggles that come with being surrounded by the opposite gender.
"Girls wrestling is a lot different than whenever guys wrestle. For us, making weight is different. Our bodies hold and retain water differently, and worrying about things such as running out of tampons or other things that guys just can't relate to," stated Ealy.
The season was not all success for Ealy, as boys in many matches outmuscled her. She said, "I barely got any girl matches until the end where I went to Heritage, which was an all-girls tournament, and then states. Guys just don't understand that [being outmuscled], so it was definitely hard to find people who related to me."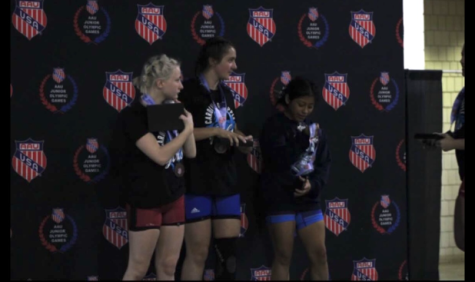 After joining the Green Hope team, she has become highly involved with the sport, joining several wrestling clubs outside of school. One of these clubs is Carolina Grapple Girls, one of North Carolina's few all-girls wrestling club teams. Through these teams, Ealy met wrestlers in similar situations that could relate to her about what comes with being a female wrestler.
Unfortunately, Ealy broke her hand recently with Green Hope's wrestling season starting November 18th. Due to her injury, she cannot participate in any matches until halfway through the season. Regardless, Ealy is still planning on improving her overall scores from last year and attending the state tournament. She stated, "I'm just working hard, staying in shape, and preparing myself for the season to come…If anything, I practice harder than I would in season."
Since Ealy began, the amount of girls on the Green Hope wrestling team has risen from one to four demonstrating that it only takes one person to defy stereotypes and inspire others.