Mullet magic: The men's soccer team finishes strong
With a final record of 19-4, the Men's Soccer team gained quite the reputation within the North Carolina 4A division. Apart from their stellar performance, some of their image came from their matching hair styles. Hoping to earn some luck, nearly the entire team sported mullets for the playoffs.
After finishing second in the SWAC conference with an 11-3 record, they held the 4 seed spot in the tournament. They began playoffs with a smooth 4-1 win over Apex, building the team's confidence and pushing them into the second round. The team then traveled an hour and a half to take on the Lumberton Pirates, where the Falcons eked out a 3-2 victory. Defender Heath Cline ('23) noted that his favorite memory of the season was the trip back to Cary on the charter bus after this win. Someone brought a huge speaker, and the team celebrated the entire way back.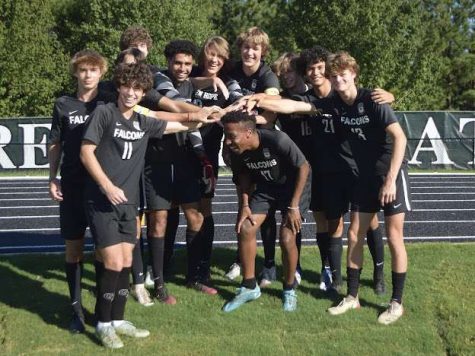 This win led them to the 3rd Round and Semifinals of the East Division where they had to face Cardinal Gibbons. The Crusaders, ranked one place below the Falcons, were tough competition. The game was physical with injuries and fouls for both teams. It could have gone either way, but with nearly 20 minutes left the Crusaders scored and took a 1-0 lead. The Falcons fought to make up the lost ground, but took a second blow with three minutes left as the Crusaders scored again. Green Hope was unable to even out the score, bringing an end to their 2022 season.
Even with the unfortunate end to their season, they still found great success and proved why the program is consistently a top performer in the SWAC and North Carolina. As the teams looks forward to next year, they will lose 11 senior players but are still optimistic about their performance.