Spriggs and Pennycooke: Green Hope's golfers
Green Hope's Women's Golf team has had plenty of success in its 2022 season. With Tyler Spriggs ('23) and Justine Pennycooke ('23) being the top scorers for the Falcons, the GHFalcon sat down with them to ask some questions. 
What made you want to start playing golf?
Justine Pennycooke: "My dad, when I was younger he really motivated me to play. We used to live on a golf course and he would always take me, so probably him."
Tyler Spriggs: "My dad started with me when I was little."
Who/what has been your inspiration in the sport?
Justine Pennycooke: "Tiger Woods because he changed the face of golf and made more people like me want to play golf."
Tyler Spriggs: "Tiger Woods and the people I play with."
What has motivated you to keep playing to this point?
Justine Pennycooke: "Honestly, probably that I'm pretty good and everyone saying that if I keep playing it can take me somewhere."
Tyler Spriggs: "Cause I know I can always do better."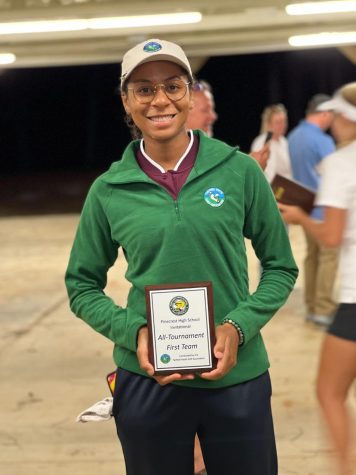 What has been the best advice you've received?
Justine Pennycooke: "Even if you're out there and you hit a bad shot, there's no point in getting mad because there's still a lot of golf left."
Tyler Spriggs: "Keep playing cause it's a game you take throughout your entire life."
What's your favorite memory from Green Hope Golf?
Justine Pennycooke: "Freshman year, we won regionals, and we had a pretty good chance of maybe winning states, we came second, and even though it wasn't first, it was still a good memory with the team."
Tyler Spriggs: "Bunking with my other teammates in a Motel 6 at states in freshman year."
How do you prep for a match?
Justine Pennycooke: "Practice everyday. We have a good team talk to motivate us to go out there and try our best. "
Tyler Spriggs: "I'll eat some good food and practice."
What are your plans for golf in the future?
Justine Pennycooke: "Right now, I don't know if I'm going to play in college, but I think it's always going to be a part of my life."
Tyler Spriggs: "I plan to keep playing, but not for a school or team or anything like that."
What do you like to do outside of golf/school?
Justine Pennycooke: "Probably hangout with my friends a lot."
Tyler Spriggs: "I like to watch movies and read."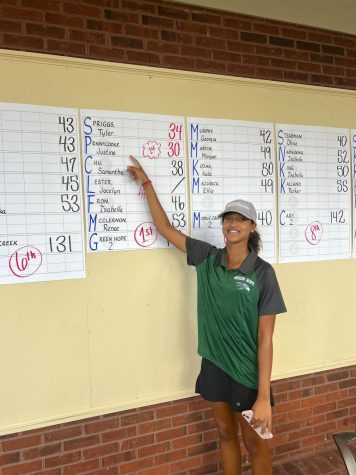 What message would you want to leave your school and teammates with?
Justine Pennycooke: "Never give up, because even if it gets hard, you just gotta push through."
Tyler Spriggs: "Have fun cause, in the end, that's all that really matters."
What are your recent accomplishments in the sport and how do you feel about them?
Justine Pennycooke: "Well, I just came seventh in states, and also breaking a record for tying fifth lowest score ever was really good."
Tyler Spriggs: "I got ninth at states and felt pretty good, I probably could've done better."
Both being top 10 in the state, these players have shown they have what it takes to be the best. The GHFalcon wishes them the best of luck as they finish their time here at Green Hope.