Spotlight: The rise of media interest grows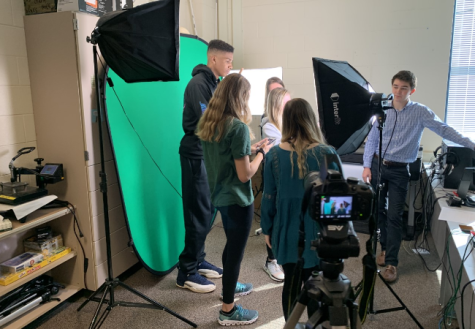 Watch and browse, a constant click on and off cycle; by working behind the scenes, students can present themselves in a way that appeals to people all over the world. Acting as information outlets and forms of entertainment, media plays an important role in everyone's daily lives. Career pathways and clubs at Green Hope advance students in this direction.
For students who aren't as interested in the fine arts, athletics, or sciences, media may be of interest. Among GH's large career-based classes, Leadership in Media, Adobe Video, and Adobe Visual Design, are just a portion of the media courses provided.
GH Alumni, Uma Bhat, a previous Editor-in-Chief of The GH Falcon, said, "I remember not really being into any of the science clubs at Green Hope and trying to figure out my niche as a freshman."
For Bhat, finding her niche was not easy. At the time, there were no prominent class pathways for her to take. It took her passion for writing to get her started in the world of Journalism. Today, she has tried both broadcasting and print/digital media.
"Now I have a much clearer idea of what makes journalism so attractive to me — discovering stories that actually inspire some sort of tangible change," said Bhat.
"
At the end of the day, the media is all about telling a story. Whether that's a true story, like for journalism, or a fiction story, like for creative artists, the mission is the same: to build, draw consumers in and send them a message. The end goal is to inspire some sort of action or feeling with that message — and more importantly, empathy."
— Uma Bhat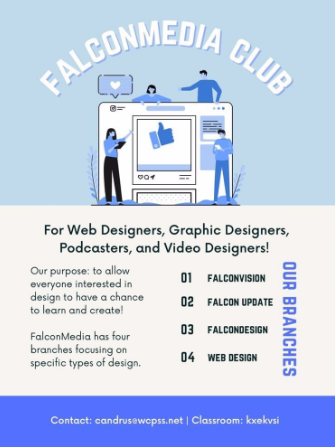 Since then, the media classes and clubs have expanded further, emphasizing their specific set of expertise and allowing for more in-depth accessibility to resources and programs.
FalconMedia, a GH club that focuses on video editing, visual design, and podcasts, provides more insight into other branches of media. Aside from storytelling, visuals and sound are essential aspects of media coverage as well.
Today, students are finding themselves in positions to advance GH's media. FalconMedia, for example, works closely with Adobe Video students and the Leadership in Media class to provide updates on GH's weekly broadcasts
"I think it's very important to be a part of media content because media is always growing," said Anna Zheng ('24), president of FalconVision, a branch of Falcon Media that focuses on video editing.
Zheng primarily uses her editing skills for dance auditions. Through this use of media, she can propel herself forward through a recorded showcase. "It's a great platform for you to share your ideas, yourself, and to meet other people," stated Anna.
Ms. Catherine Andrus, the Adobe Video teacher, and the advisor of FalconMedia, agrees. "It is a great way to explore your creative side, as we are living in a digital age. We can help shape what is being shared," said Andrus.
"
Even if you go into the classes and don't end up taking on media fields, you can still use those skills in anything."
— Anna Zheng
From interest to skill building, the career classes and clubs at GH play an important part in promoting essential skills in today's modern world. By providing room for a different kind of self-expression, students are finding interest in filmmaking, broadcasting, multimedia, and journalism.
A lot of work goes on behind the scenes of media content, regardless of what form it comes in. With the determination to create, develop their skills, and tell stories, students at GH continue to make an impact on their community in more ways.
"
If you're passionate about news, writing, and reporting — go for it. As with most things, pursue media because it makes you happy."
— Uma Bhat