Spotlight: Freshman to Varsity in Year One
Several Members of the Varsity Squads are Embracing Young Talent
The 2022 fall semester has been dominant for Green Hope athletes. With a variety of sports teams aiming for states, we showcase the young freshmen that have earned standout roles in their respective sports. Take a look at three of Green Hope's most promising freshman athletes.
Lindley Miller
Standing at six feet three inches, this year's varsity volleyball team welcomed a new addition, Lindley Miller ('26). She has played volleyball for three years and is already having success in the sport. Miller is currently a starter as one of the two middle blockers on the team, which is currently ranked in the top 20 in North Carolina.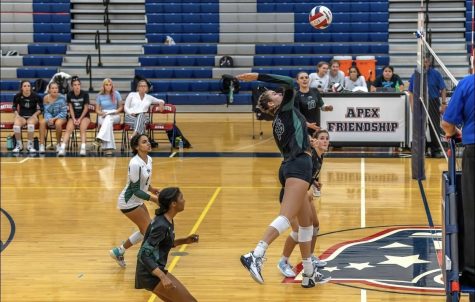 When asked about her expectations coming into high school, Miller said, "I was kind of just trying out for both. I obviously wanted to make varsity…but I didn't really come in expecting to make varsity." Even though she was not sure she would make the team, she has been a powerhouse on the court by leading the team in total blocks.
As she continues the season, Miller's toughest challenge is making sure she does not put too much pressure on herself. "I didn't want to weigh the team down, being the youngest on the team, and I didn't want to play bad and it reflect badly on the team," said Miller.
Outside of school, Miller plays club volleyball as well.  She said, "[The varsity team] is definitely a different dynamic than being the same age as them…On the court, I feel like I have a bunch of coaches…and I have received a lot of advice and critiques from the older players." Miller's mindset combined with her openness to critique is beneficial to herself as well as her teammates.
"
Lindley is really important for maintaining the team's energy and spirit, and she's always…humble even though she's really good at such a young age."
— Lexie Davila ('23)
Adam Granai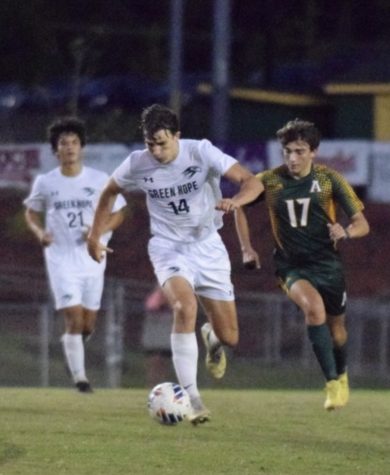 Adam Granai ('26) is a starting center back for the men's varsity soccer team, which is currently ranked top 10 in the nation. After playing the sport for eight years and having a strong club season on NCFC's ECNL U15 team, Granai felt prepared to make the varsity team. Being the only freshman on this year's roster, Granai has had to prove himself throughout the course of this season.
Despite his achievements, Granai still had some difficulties to overcome. In an interview with the GH Falcon, he said, "There was definitely a bit of a mental challenge at the start playing with dudes two or three years older than me, but at the end of the day we're all just playing soccer, playing the sport we've been playing for many years, so I got used to it." Granai has more than proven himself so far this season, having won a majority of 50-50 balls and providing accurate passes from the back to set up for scoring.
Brianna Stewart
Brianna Stewart ('26) has been playing tennis for eight years and currently plays third on the undefeated women's tennis team. Stewart explained, "It's like a lineup basically…Player one is the best player, and they play the best player on the other team. Player 2 is the second best, and they will play the second best player on the other team." There are 14 people on the team, and Stewart is the only freshman in the top six spots.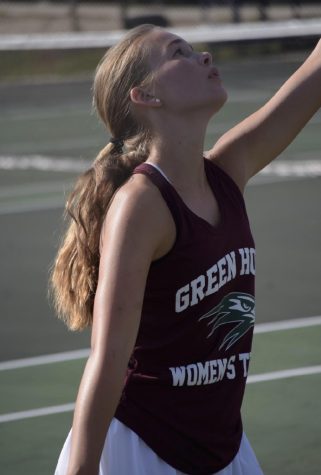 Green Hope is the first tennis team she has played on, and she is helping the ladies continue their undefeated streak. Before high school, Stewart practiced at Cary Tennis Park with a private coach and competed individually at tournaments. "There are a few tournaments called Southern. There's one in winter and one in summer. It's basically where all the players from all the southern states go and play, so that's a really big tournament for me," said Stewart.
Although the season has been full of wins, it is not all smooth sailing. Stewart said, "There's been a few tough matches. I've lost twice to the same girl but the second time was a lot closer, and I will probably play her again." Evidently, she is improving her skills after each practice, tournament, and game.
When asked about advice received from upperclassmen teammates, Stewart said, "I think they've helped a lot with the team aspect. I'm not used to playing on a team and they're always really supportive and cheering me on, so I try to do the same for them."
---
Lindley Miller, Adam Granai, and Brianna Stewart are all examples of young players showing maturity in intimidating environments. In addition to their athletic abilities being showcased, these freshmen are gaining perspectives from experienced varsity players.  The future is bright for both the teams and their freshmen playmakers.