2022 Homecoming Pep Rally Boosts School Spirit
Filled with dance performances, cheer routines, band music, and exciting games, this year's Homecoming Pep Rally (held on Thursday, September 29th) was a must-see. Since the pandemic has slowed down, Green Hope has been making an effort to revive school spirit, and this Pep Rally did just that. 
The Pep Rally began with the recognition of the fall sports teams and some words from the captains. The last team to be recognized was none other than the Green Hope Varsity Football team, where senior captain Ian Fisher awarded a helmet signed by all the players to Principal Cleveland to commemorate her first year at Green Hope. Fisher noted that Principal Cleveland "has been to every game, cheering us on, so we wanted to giver her something as a token of our appreciation". It was a kind gesture that added a layer of geniality to the overall experience.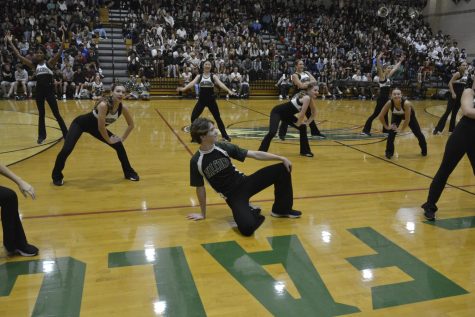 The Dance Team took the crowd by storm with their performance to Boom Boom Pow by the Black Eyed Peas, showing off their skills through kicks and captivating choreography. Shortly after, the Homecoming Court was announced. Exhilaration filled the air as the Freshman Prince and Princess walked out and the anticipation began to build for the Senior Court. The King and Queen were announced at the football game that evening, leaving nerves high, but balanced by the excitement.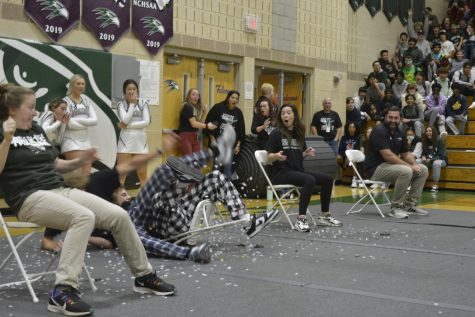 Finally, the Falcon Frenzy Club ended the pep rally with a bang. They taught the crowd a new cheer and reminded the student body of some classics such as "We Will Rock You" and The Wave. The most notable part of the experience was the Balloon Pop Race, where two teams of students took on two teams of teachers. Seniors Harrison Wahl and Josh Bevan took the cake for most devotion, showing no restraint when it was time to jump on each other, which was rewarded by their victory over the other three teams.
Senior onlooker Ashtin Abood said that "the Green Hope students really showed out and brought the energy". The Pep Rally was a fantastic showing of Green Hope pride, and how school spirit is returning this year. With the Homecoming Dance on Saturday (10/1), it is safe to say that this is a great time to be a Falcon.