Women's Volleyball Sets Up Success with Dynamic Team
Eleven games into their 2022-23 season, the Green Hope Varsity Women's Volleyball team reigns supreme. The team is ranked fifth in the 4A East Division, with a record of 10-1. Head coach Karl Redelfs and junior captain Belle Patrick ('24) lead the way, and the team is ready to bring their all for the rest of this season. 
At the end of last season, Avery Mullins ('23) snapped her fibula and Belle Patrick tore crucial tendons in her knee. Both have now made a full recovery and the Falcons have their eye on winning States this year. The current season has come with its fair share of struggles, though, as starting setter Avery Mullins suffered another injury before the season began. This forced senior Autumn Lilly–a new student to the school–into a leadership position and the rest of the team to quickly adapt to playing with a new setter. The team is no stranger to pressure, as the program's consistent history of success sets a high standard for the Falcons.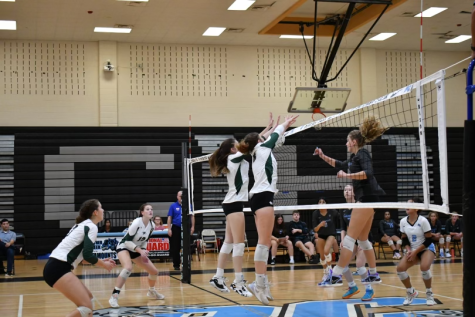 Belle Patrick, a junior captain, isn't oblivious to the big changes happening within the team. She notes that there is "basically a new team [dynamic] … but it's bonding really well." As a captain, Patrick leads the team with good morals and a high work ethic. She works with the senior captains, Sophie Carlson ('23) and Taylor McNear ('23), to maintain the team's high performance levels and spirit. After their recent sweep against Panther Creek on 8/7, Patrick is more than happy with the team's performance. "Every game we get better … we are definitely where we need to be. My expectations were high and they are being met" she said. Patrick recently committed to Virginia Polytechnic Institute & State University, and credits her success to time management and determination. "You just have to manage your time, [and] give it all you got, all the time," Patrick said.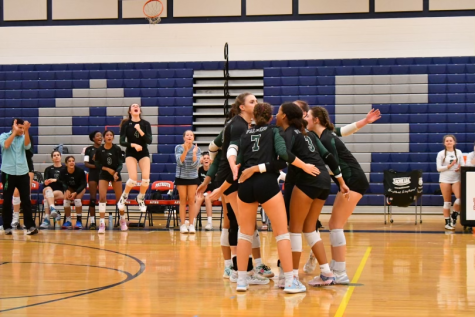 Head coach Karl Redelfs likes to lead a "player-oriented" coaching style. His faith in his team and quantities of experience keep his job simple. A typical practice for the team involves 90 minutes of serve and pass and one more hour of defense. Coach Redelfs has been satisfied with the team's performance and is expecting another banner on the wall at the end of this season. After their most recent win against the undefeated Middle Creek team, Coach Redelfs told Kevin Holmes from HighSchoolOT that he saw "great fight and hustle" from the Falcons and his players stepped up to the competition. 
As the Falcons rise in the ranks, they have the potential to continue the program's strong history of success.