Women's Tennis Causes a Racquet
The Team Serves up Success in Hopes of Winning a State Championship
Green Hope Women's Tennis is off to a great start, upholding their undefeated streak of 6-0. Their sights are set on the state championship, and the team is preparing to face some of the most challenging teams in the state, including rival Panther Creek.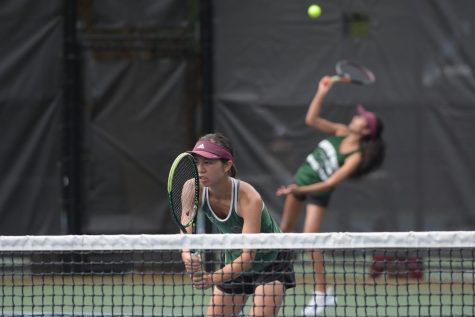 The Falcons started off the season by edging out Apex Friendship with a 5-4 win, taking two out of three doubles matches, and finishing off with solid singles performances by team captains Olivia Corcoran ('24) and Siri Chenna ('23). They followed that win with another 5-4 success over Panther Creek, with JiaJia Ye ('23) and Siri Chenna dominating a key doubles match. Meanwhile, in singles, Brianna Stewart ('26) and Lisa Kranec ('24) played impressive matches.
In the following weeks, the Falcons dominated against Middle Creek and Cary High, winning 8-1 and 9-0, respectively. Later on, a match against Holly Springs was interrupted by some rain but resulted in a 5-0 victory nonetheless. The team shows no sign of slowing down, winning against close competitor Green Level in a tense 10-point match tiebreak.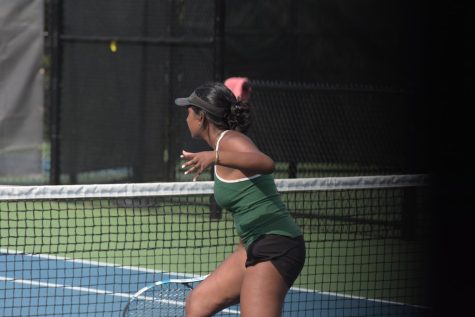 Tennis Coach Robert Jones has high expectations for the team, and hopes to win the conference championship. "We finished first [in the conference] for several years before finishing second last season, so we want to get back on top this season," he states, "I think we are capable of beating any team in the state if we play our best. So hopefully, we'll have a chance at another state championship."
Part of the team's success can be attributed to the talented players on the team. Players Olivia Corcoran, Lisa Kranec, and Brianna Stewart are ranked among the top junior tennis players in the state. The strong lineup continues with Vibha Kestur ('24), JiaJia Ye, and Siri Chenna, all of whom win important matches against tough opponents.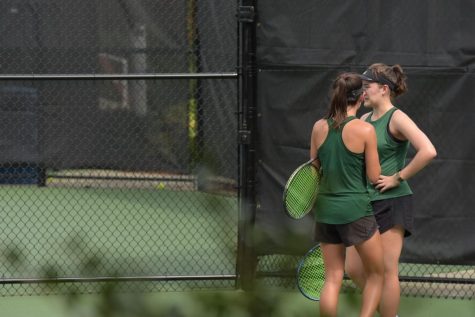 The support of team captains and the coach is also crucial to the team's success- more than half of the 14 players are underclassmen. Despite plenty of fresh faces, the Falcons are still able to support and trust one another. Aaliyah Green ('26) commented on the team dynamic, stating, "Everyone's been pretty accepting, I don't ever think there's [a] time where someone has been mad about a shot or anything." Dikshita Bhowmik ('26) agreed, stating, "The team is not only talented but it is also extremely connected."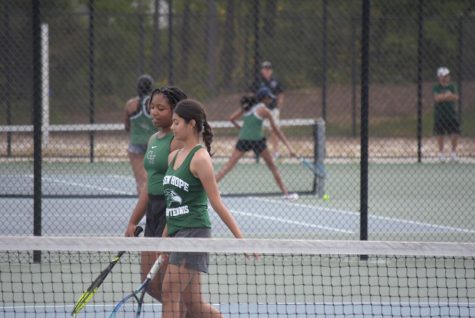 The team's bond off the court translates into success on the court: they've won 14 out of 17 doubles matches played so far. Laavanya Karthi ('25) stated, "It's been really fun getting to know my teammates," and Tia Chaurasiya ('25) added, "I'm looking forward to growing closer to the people that are new to the team this year, and I hope that we still continue to have an undefeated season."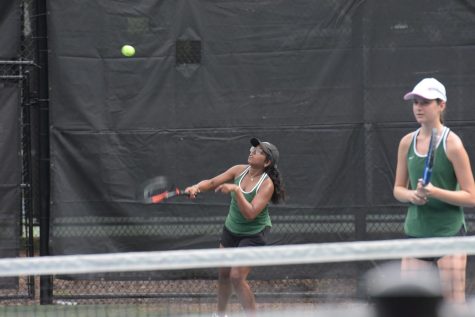 Coach Jones added to this sentiment, stating, "You have to have contributions from the entire team to be as successful as we've been over the past several years. I'm really pleased with the group of girls on the team this year. They work hard and they really enjoy playing tennis and being with their teammates."
As the team goes further into the season, they hope to see their hard work and commitment continue to translate into success on the court.