Unity Conquers: Unified Track's Olympic Success
The Green Hope Unified Track Team Represented the State of North Carolina at this year's Special Olympics
Y-Nhu Do, Staff Writer
September 12, 2022
A game of tag on the school playground, four-square on the blacktop, and kickball on the field are some of people's fondest childhood memories. When it came to games, it didn't matter who was playing; everyone just wanted a piece of the fun. Unified Track is aiding in carrying this mentality all the way to high school and beyond. The sport works to promote inclusivity by combining special education students with general education students for a variety of track and field events. 
Last summer, the Green Hope Unified Track and Field team represented North Carolina at the Special Olympics in Orlando, Florida. The team consisted of five special education athletes and four general education athletes. After a week of intense competition, Green Hope finished in 11th place. 
At the beginning of the week, the team felt nervous because it was the first time they had ever been to the Special Olympics. Ms. Laura Bunn, the Unified Track coach explained, "we really didn't know what we were getting ourselves into." At first, the team thought it would be a fun laid-back competition, however, the reality was different. "It was wild to see these teams that were actually really intense," Ms. Bunn recalled.
Despite being completely new to the Special Olympics, the athletes were pleased with their performance. In total, they won two gold medals, two silver medals, and eleven bronze medals. Kendall Fowler ('23), a general education athlete who won a gold medal in her shot put heat, said, "even though we might not have won the most medals, we definitely tried our best and we had fun. That's what really mattered." In fact, Kendall believed that her biggest achievement was "giving the special needs kids this opportunity and helping them out." Her fellow general education teammates agreed.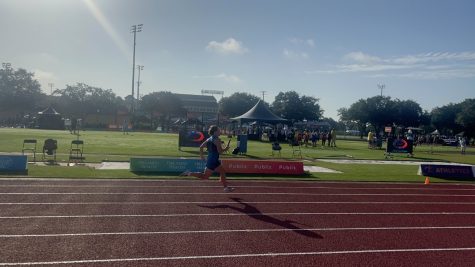 Lucas Mullins ('24), another general education athlete who won two bronze medals, stated, "My biggest achievement was just the experience with the special education students. . . helping them out, and making sure they're comfortable and having fun." 
As a result of this attitude, the special education students had an incredible time. "We won a lot of medals," said Melanie Tutka ('23), who won a silver medal in shot put. "I felt happy and very excited!" 
Overall, the team enjoyed the experience and got closer throughout the course of the trip. Ms. Bunn shared her thoughts, saying, "They definitely grew as a team and friends over that week-long experience. At first, each athlete was like their own individual person, but by the end of the week they were one giant team." She further stated, "They showed that inclusion is really important and that it doesn't matter whether you have a disability or not. These kids showed that you can get something out of a friendship with someone different than you."
Ms. Bunn hopes that more schools will create unified track teams this year, saying, "Last year, it was us competing against ourselves because there were not many teams, but I hope that will change this year . . . I think that it is really important to create a team whether you have talent or not, because these kids can all bring something to the team."  
Overall, the Unified Track team helped the students grow as both athletes and people. "Some of my runners were not great at the beginning of the season, but practicing and working as a team allowed them to grow," said Ms. Bunn. The team plans to take this unity and mentality into the next season for another successful year!