Duke Commencement Speaker Accused Of Plagiarizing Speech
On Sunday, May 8, Duke University held the Class of 2022 Commencement Ceremony at the Wallace Wade Stadium. With more than 5,700 new graduates, the prestigious institution holds itself and its students to a high standard. 
The Commencement speaker, Priya Parkash, an international student from Pakistan, was chosen from a pool of applicants at the ceremony. Describing her time at Duke as a 'life-changing opportunity' and 'a safe haven' for students, she addressed her class with honor and exuberance. 
Shortly after, writers for The Duke Chronicle, Duke's student-led newspaper, picked up on some noticeable remarks. 
Following the ceremony, The Duke Chronicle published a story pointing out the distinct similarities between Parkash's speech and Harvard University's Commencement speaker, Sarah Abushaar ('14). 
It was noted that multiple excerpts from Parkash's commencement speech were taken from Abushaar's commencement speech to the Harvard University Class of 2014. With Abushaar describing the beginning of her journey at Harvard by stating, "The doors to whole new door of possibilities flung wide open," and Parkash stating, "Suddenly, all the gates to the American Dream opened wide," allegations immediately arose, questioning the integrity of the graduate's speech.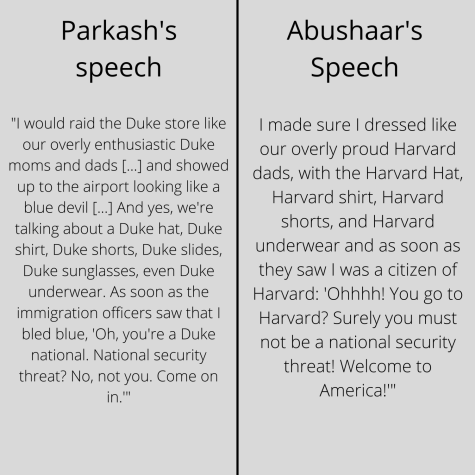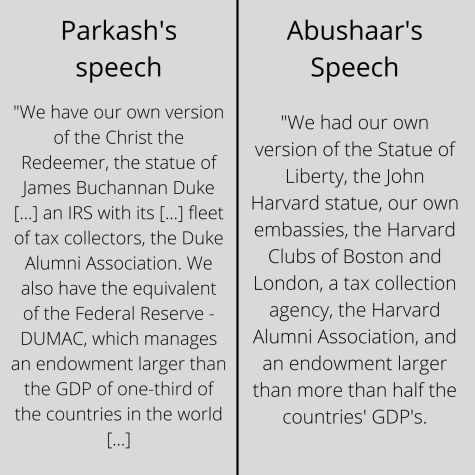 Senior Raphael Lee, who recently committed to Duke University, provided his opinion on the situation. "As a future Duke student, it's sad to see that a student there would plagiarize. Hopefully, this was just a one time occurrence and won't repeat again," he said. 
Attendees of the Duke graduation ceremonies shared similar thoughts. 
After attending a Duke graduation this past weekend, Sophomore Jana Tagel-Din reflects upon the accusations. "I feel like although what she did is certainly wrong and disrespectful to the person who wrote the original speech," she said. "I feel that she should be educated and informed, rather than just simply slandered." 
Students also ruminate on how spreading awareness regarding plagiarism is more important than ever. 
"It's very important for students to acknowledge this issue. It's surreal about how big the consequences for plagiarizing can be in college. My English teachers also warned us about how big plagiarizing can be but it wasn't until now that I realized that they were right," emphasized Lee. 
With some having sympathy for the speaker, others don't view the incident as an accident. Mr. Gregory O'Brien, English II and Speech teacher at Green Hope believes accountability needs to be taken for the situation. "That's on her," he said. "She's responsible for it. If it was an honest mistake, then it was an honest mistake, but plagiarism is plagiarism."
While there are differing opinions regarding Parkash's intentions, most believe that this is a valuable lesson for students everywhere.
"It's important that students are held accountable for their scandals and problems. By publicizing this information, we can help show people the downfalls of plagiarism and reasons to maintain integrity, while not simply slandering the name of the individual that plagiarized. This can be a learning and educational moment for students," said Tagel-Din. 
After The Duke Chronicle brought the potential plagiarism to light, the incident made national headlines on several online news publications such as the New York Post, The Washington Post and Fox 5. 
ABC 11 News received a statement from the institution itself, stating, "We are aware of and concerned about these allegations and have initiated a process to understand the facts of the situation. Duke University expects all students to abide by their commitment to the Duke Community Standard in everything they do as students."
The news station also reported that Parkash is 'embarrassed' and 'confused' after discovering the excerpts given to her by family and friends have been taken from Abushaar's speech. 
Duke University is currently conducting an investigation regarding the allegations and the speaker.
"
"I feel it's very common for high schoolers to feel extremely pressured by high school and its challenges and, although I have not and would not do this myself, I know that an abundance of students may make similar decisions to the student that plagiarized. I think publicizing this is important to teach students about the harsh reality of how that ends.""
— - Raphael Lee ('22)