Green Hope Unified Track Runs Into 2022 Special Olympics
Since 1968, the Special Olympics program has provided opportunities for students with special needs across the U.S. and the Caribbean to get involved in athletic competitions. From surfing to powerlifting, special education students have a wide range of sports to partake in at the annual event. 
For the first time, Green Hope's Unified Track and Field team, a team consisting of five special education students and four general education students, is making its way to Orlando, Florida on June 5th for the week-long competition. All of the students placed in both county and state-wide competitions early in the season, earning their spot in the USA Games in Florida.
Ms. Laura Bunn, an eighth year Special Education teacher at Green Hope and the team's head coach, has been working hard with these students to best prepare them for the different activities they will be tasked with. 
In an interview with the Green Hope Falcon, Ms. Bunn explained what the average Unified Track and Field practice looks like.
"A typical practice day usually includes practicing field events such as baton passing and of course running patterns like being sure to stay in your lane the entire time," stated Ms. Bunn.
Ms. Bunn also shared what she's most excited about for the USA games.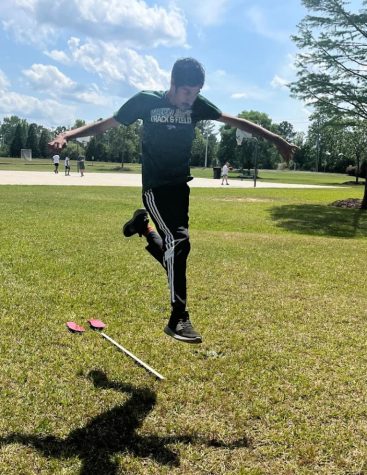 "I'm most looking forward to representing North Carolina as the first Unified Track and Field team to go to the USA Games, but I'm also really excited to see our students in a different setting. I only ever see them at school, but in Orlando, I'll get to be with them 24/7," added Ms. Bunn.
Lucas Mullins, one of the Sophomore students on the team, provided his insight on what Special Olympics means to him as someone who advocates for inclusivity within schools. 
"My favorite part about being on the team is the ability to be inclusive of all types of students and ultimately share these experiences with them as well. I also enjoy being able to get closer with everyone else," Mullins said.
"
We need to be accepting of everyone and not feed into stereotypes. People aren't all the same, so it's important that we are open to being inclusive of everyone."
— Lucas Mullins ('24)
Anthony Santo and Ramin Mukhta, two of Ms. Bunn's students who are also participating in the USA Games, explained what they're looking most forward to.
"We're excited to ride a private jet and go to Orlando, Florida," stated Santo and Mukhta.
Both Santo and Mukhta are competing in the 400 meter run as well as the long jump in June. 
Jillian Orlando, a Junior on the Unified Track and Field team, also spoke about her experiences on the team. She explained how competing in Special Olympics is more than just a partnership between a general education student and a special education student. 
"At a school like Green Hope where students are really focused on GPA, I think it's important that opportunities like Unified Track exist. I've always wanted to work with students who have special needs, but I never got the chance to until I joined Unified Track," stated Jillian.
"
We're all able to work and collaborate with each other, and I'm most excited to meet new people at the competition. It's mainly about them, so I want to be sure that the other students get to have new, fun experiences as well."
— Jillian Orlando ('23)