Green Hope Science Olympiad Achieves Great Success at State Competition
The Green Hope Science Olympiad team finished third in the state competition hosted at NC State University's campus
On April 23, 2022, the Green Hope High School Science Olympiad team successfully took the third place award in the state competition held at NC State University's campus. 
The two-day competition culminated in a total 27 events, each representing their own distinct subject and category type. Specifically, Green Hope placed first in Astronomy, second in Anatomy and Physiology, fourth in Aerial Scramble, fourth in Bridge, second in Cell Biology, second in Chemistry Lab, third in Environmental Chemistry, third in Experimental Design, first in Forensics, second in Mystery Architecture, second in Ornithology, second in Remote Sensing, fourth in Trajectory, and many other top ten placements.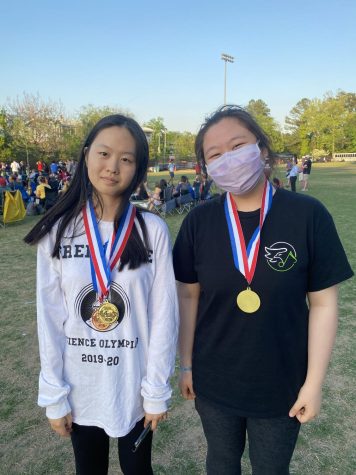 As for individual performance, it is certain that each and every student on the competing state team put in hours of practice and dedication to succeed in their events. 
"My partner and I met up at least once a week in the month and a half leading up to the competition," stated Engelina Xiong, the Forensics State Champion. "Since Forensics is such an experiment-heavy event, we really went all out — borrowing materials from Mr. D'Agostin, camping out at the park with our powders and pipettes, getting judged by strangers — it was a lot of fun," she added.
Similarly, Astronomy State Champion Harsh Ambardekar cited a routine of consistent practice tests, organization, and reflection as he and his partner were tested on general/conceptual knowledge of astronomy, math, and deep sky objects. "In Astronomy, we are allowed to use online materials that we made (e.g. Google Docs) during the competition. My partner and I thus made separate "binders" for Deep Sky Objects, Math, and General Knowledge," he stated. "We made sure to make the information in our binders as detailed as possible because there was no limit on the number of pages we were allowed to have so we wanted to make the most of it. Other than creating our binders, my partner and I met frequently to take practice tests and discuss what we could improve on," he added.
With these rigorous practice routines and demanding schedules, feelings of excitement and nervousness were profound. "I was really excited about the competition because it was the first in-person competition that I had been to in a while. I was also a bit nervous about performing well," stated Ambardekar. "After completing the events one by one, however, I started feeling pretty good about how I had done. Overall, the competition was really fun because it was a new type of experience for me; I hadn't really spent much time on a college campus before, and this competition showed me how difficult it can be to navigate a college campus!" he added.
Sharing this sentiment, Forensics State Champion Vivian Huang recounted on an optimistic and hopeful mindset going into the competition. "Being the first in-person state competition in two years, just meeting all the competitors and hanging out with everyone was very fun," Huang stated. "Going into the competition, I knew that I had done the most preparation that I could and that I understood how the competition would be formatted so I stayed calm and collected and just was trying to enjoy my time during the competition."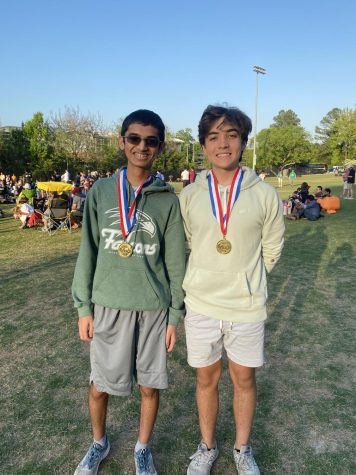 Moving forward, these players all hope to continue their involvement in Science Olympiad both within and outside of the high school environment. "Our school was just 13 points from getting into Nationals this year, so that's definitely what we'll be aiming for next year," stated Xiong. "On a more personal scale, I hope to keep learning new things — exploring new areas of science, and just never stop improving."
For any underclassmen looking to try out for the team next year, the current members all have one common piece of advice: don't be afraid to give it your all. 
"Science Olympiad is a very fun experience that allows you to learn a lot more about things you are really interested in. Many Science Olympiad events involve topics and skills that are not covered in traditional school curricula, so by participating in Science Olympiad, you can really enrich your learning and education," said Ambardekar. "Science Olympiad is also a large commitment. Performing well at competitions requires a lot of hard work and collaboration with your partners. It's a very rewarding experience though, and I highly encourage all people interested in STEM to try it out!"
Although the Green Hope Science Olympiad team was only 13 points shy from reaching nationals this year, there is no doubt that the team's consistent effort and commendable work ethic brought them to the great success that they had this season. For those interested in trying out for the team next year, be on the lookout for the application process as the school year comes to an end!