Men's Lacrosse Gains Momentum As They Close Out Their Season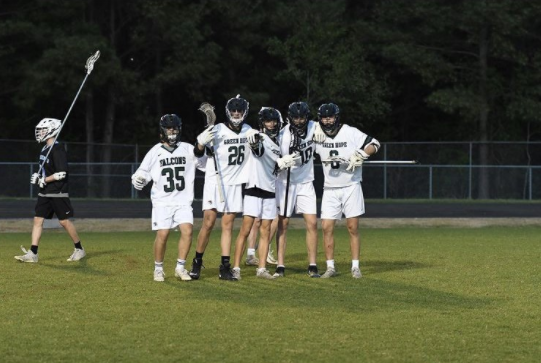 Men's lacrosse won their last game against Panther Creek 12-6, beating them for the second time this year. Green Hope has started off the season 4-7 and only has six more games until the end of the season. They rank sixth in the conference and although they are only one game behind Apex Friendship, they have a tough schedule ahead of them. Green Hope is scheduled to play Middle Creek, the number one team in the conference,  along with Holly Springs and Green Level who aren't too far behind Middle Creek. 
They've had two main scorers on their team, Jake Bell and Alex Wagner, Jake leading the conference in scoring early in the season. Many of the lacrosse team's players are multi-sport athletes and Alex Wagner is one of them, playing basketball and lacrosse. We had a chance to interview him and he compared the two sports saying," You can see the similarities in the playing style because you just attack and react to how the defense reacts which determines if you should shoot or pass to the open man." Both sports have very similar aspects and this Falcons team is made up of many multi-sport athletes who can bring their skills from other sports to lacrosse and help make the team even better. 
One skill Alex can bring to lacrosse as a point guard is passing, as he said," our best game was the first time we played Panther Creek and won 17-7, Jake and I  were getting really good goals all game and I was assisting the open man." So far this season Alex has led the team with 2.1 assists per game and is second in goals behind Jake Bell. 
Your Falcons look to repeat that performance Tuesday at 6:00 PM against Middle Creek. Be sure to show some support as lacrosse looks to close out their season in the upcoming weeks.