Dig, Set, Spike: 'VolleyBros' Returns
Students show off their skills while raising money for the V Foundation
After weeks of anticipation and training, the VolleyBros Competition finally took place. On March 17, thirteen teams met to compete for the title of 2022 Green Hope VolleyBros Champion.  Although this tournament is meant to be silly and fun, the court heated up quickly as the players fought to 'be crowned' (it's no joke as the winning team was actually awarded tiaras) the winner. The animated, competitive atmosphere kept the fans engaged.
As one may guess, the majority of the participants had never played volleyball outside of freshmen P.E class before signing up. Junior Heath Cline said, "I had only touched a volleyball three times prior to the training for this tournament." However, this initial lack of experience proved to be no problem due to the help of the Green Hope Women's Volleyball Team. They organized the tournament and served as coaches for each team. Green Hope Seniors Katie Taylor and Annie Barbie, who both played on the Women's Volleyball Team, planned the entire event.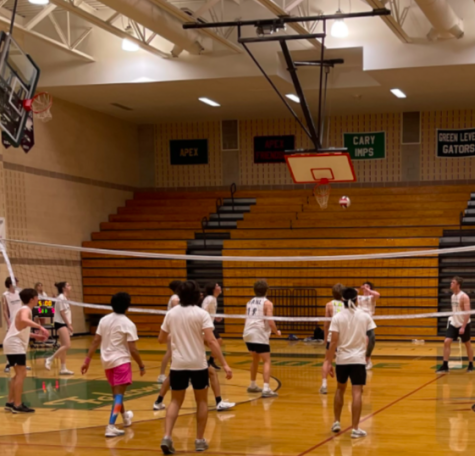 The tournament was a fundraiser for the V Foundation. This organization, founded by ESPN and Jimmy Valvano, is dedicated to raising money for cancer research. For many, being able to play and raise money for charity meant a lot. 
After two rounds of initial games, it was time for the final. In the final game, "The Men" played "Team Shane." Although "Team Shane" put up a good fight, "The Men" pulled through, winning 25-10. Despite losing, "Team Shane" player Arnav Praveen states "it was an unlucky loss, but overall it was a fun experience and I'm glad I got to participate in the event. It was for a good cause."
As a whole, the VolleyBros tournament of 2022 was a success! Good work to "The Men" and all the teams that participated this year!