Patrick Dougherty: Nature's Artist
While some may be familiar with the Out of the Box piece located in the NC Museum of Art, the artist behind the masterpiece is lesser known: Patrick Dougherty.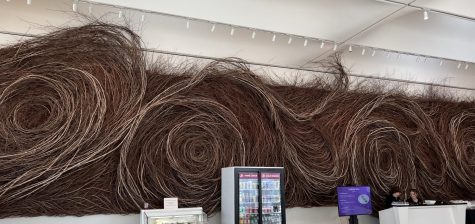 Commonly referred to as the "Stick Wizard," Dougherty is an award-winning environmental artist who creatively interweaves various kinds of sticks to form unique, massive art pieces. From commissioned work in his home state of North Carolina to states like Ohio to faraway countries like Japan, Dougherty has cultivated both art and a large community of artists and environmentalists.
In an interview with the Green Hope Falcon, Dougherty noted, "As humans, people are a lot more homogenous than what many think. They share the same memories of upbringing and nature, making the stick sculptures appeal to diverse groups of people in different countries."
"
It makes friends for the sculpture way before the sculpture is even finished."
— Patrick Dougherty
However, this artist's work doesn't cease at just appealing to the public. His techniques rely heavily on involvement from each respective community as well.
"Having volunteers really helps build the work, but it also endears the work to the community," stated Dougherty.
By opening up opportunities for people to take part in the art initiatives, Dougherty not only showcases the importance of art in the world but also how nature plays a role in it. With over 300 unique pieces, hundreds of people across the world have worked alongside Dougherty while simultaneously appreciating the simple parts of life on this planet.
His artwork has also paved the way for a more environmentally-friendly planet that emphasizes reduced fossil fuel usage and more conservation-based techniques. Since all of his pieces are built from materials such as elm, maple, and willow, Dougherty has revolutionized the concept of minimalism while maintaining the vital one-of-kind aspect of artwork.
Ms. Melissa Poppe, the Fine Arts Department Chair and Art teacher at Green Hope, provided her thoughts on Dougherty and his artwork. 
"
One thing he frequently does is connect with students in the area so they're involved in the process. It's as much the community's sculpture as it is his."
— Ms. Melissa Poppe, Fine Arts Department Chair
"Mr. Dougherty has reached out saying that he wants to get to know the students at Green Hope and help them learn more about environmental art and its unique aspects. It's amazing how he wants to give back to the community by getting directly involved with younger people who are interested and willing to learn more," stated Ms. Poppe. 
Sabeel Zayan, a Junior at Green Hope High School who has been passionate about the arts throughout her upbringing, also noted Dougherty's influence on her passion. 
"Patrick Dougherty's work has pushed me as a fan of art to look beyond typical art mediums," Zayan said.
Zayan also mentioned that she looks forward to taking part in one of Dougherty's community-wide sculpting initiatives in the coming months.
"I know he's in the process of developing a piece in Cary this month, and I'm hoping to go and visit with my friends once it's done."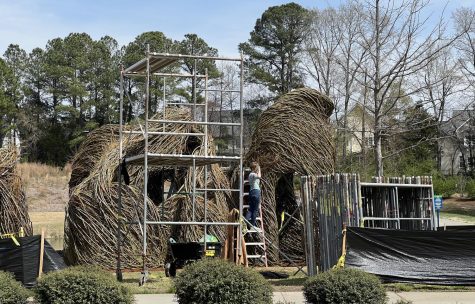 However, Zayan isn't the only individual interested in observing Dougherty's art in the future. Thousands regularly visit and research his art, process, and overall appeal to various groups of people, whether they're artists themselves, students, or just an average community member.
"Stick art is ancient in its own way. But, when you get to see the community appreciate each individual piece and the effort that goes into developing it, it really is the most gratifying part as an artist and someone who's also part of the community," stated Dougherty.
"
His work is the definition of both simple and complex in one, and it propels other artists to think creatively about everyday parts of both the artistic and natural world."
— Sabeel Zayan ('23)