After exerting every ounce of effort, the ball finally passes their opponents. The two athletes celebrate their deserved rally win, after intensive focus and powerful hits, ending the match. For Aaliyah Green ('26) and Brianna Stewart ('26), winning rallies is nothing new: quite the impressive feat for both the tennis players, who are making big impacts on womens' tennis as underclassmen.
Aaliyah and Brianna sat down with the GH Falcon and answered some questions about their respective tennis journeys, and the realities of competing as underclassmen.
What prompted an interest in tennis?
Both athletes started playing tennis at the same time: "About 9 years ago." Brianna expanded, "We would watch it on the TV and I thought it was really interesting. We also played a lot as a family at a nearby park." "My mom made me play," said Aaliyah, commonplace for young athletes, "I fell in love with it quickly."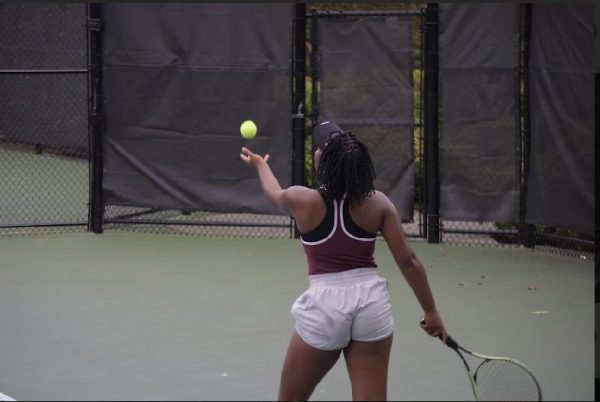 What were some expectations when entering high school in terms of athletics?
Aaliyah set a high bar on high school athletics since moving to Cary from another state. "I definitely thought it was going to be a lot harder, more challenging." Brianna on the other hand, "had no idea what to expect." Aaliyah and Brianna had been playing individually in tournaments for a long time but "with the team the match counts so it's a lot different," Brianna revealed. For high school, the top athletes play against another school's top athletes, with each won match counting as one point for the school. Brianna continued "I think playing for the team is more pressure, but it's more fun."
What was it like playing freshman year?
"I was playing a lot, " said Aaliyah, an incredible accomplishment for a freshman athlete. Brianna was in a similar situation, "This year I'm playing as #1 and last year I was #3." Both players had big roles as freshmen, and have even bigger roles this year. Brianna revealed "our top 6 plays the top 6 from the other team, and it's ranked 1-6." Last year both Aaliyah and Brianna were playing in the top 6. Aaliyah felt "it was a lot of playing and practicing, but I liked it."
What's the best part about being on varsity as an underclassmen?
Brianna has quickly developed as both an athlete and a young woman by being at the top of Green Hope tennis. "I've never been in a leadership role, so it's helping expose me to that." Aaliyah thinks playing that competitively is "just really fun," especially when she spends time with one of her typical doubles partners "Brianna and Vibha, who I always enjoy playing with."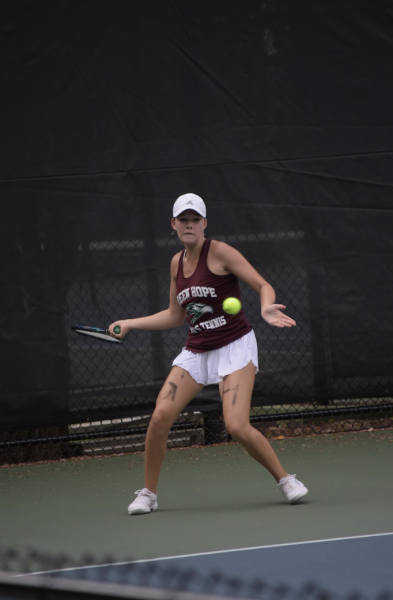 What adversity is commonly faced as an underclassmen on varsity?
"There's a lot of pressure" both athletes emphasized throughout the interview. Aaliyah expanded, "there's upperclassmen playing with you or depending on you to win, so it's a lot of pressure." Brianna also feels this pressure as the #1 competitor. "I've played a lot of really good players, and sometimes they're just that much better than me." Aaliyah continued "It's hard playing doubles, especially with older people, because if you lose then it's all on you. It's really a mental sport and an individual sport." Despite the pressure both these players face, the phrase "pressure builds diamonds" clearly applies for these two outstanding athletes.
What should be anticipated for the next few years in Green Hope tennis?
"We're going to keep getting better because our team is mostly underclassmen," said Brianna. With 8 wins and 5 losses this season, the team is looking to bounce back to state championship form, as they were last year. "We are working hard to develop everybody to get better" Brianna continued, setting a high standard for the next couple years of Green Hope tennis.
Brianna Stewart and Aaliyah Green have both surpassed all expectations as sophomores, competing at the #1 spot and #3/4 spots respectively. Brianna, even while competing against the highest level players from other schools, has a 4-5 record and Aaliyah holds strong at 5-6, playing both the #3 spot and #4 spot. These two young athletes will continue to develop, becoming the forefront of Green Hope's talented tennis youth.