This season, the boys varsity cross country team has been chasing faster times and achieving goals for a chance at winning the State Championship. Over the past few weeks they've been quickly dropping their times, with runner Gabriel Cardenas ('24) going sub 17 for the first time with a time of 16:55.80, other runners such as Theo Zalc ('24) and Matt Dubrule ('24) preparing to do the same.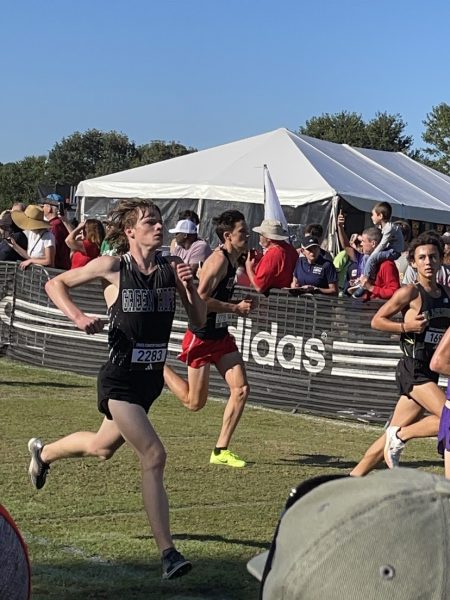 Among all the runners, two have recently made it into the Green Hope record books. On Saturday, Sep. 16 at the Adidas Invitational, runners Dax Mahone ('24) and Seamus O'Driscoll ('25) reached number 14 and 42 for the top 50 fastest 5k in Green Hope history with times of 15:51.70 and 16:31.30.
This season, O'Driscoll has been trying to make every meet count. At practice, he consistently takes workout days seriously, looking forward to The Michigan, a workout where runners alternate between fast-paced intervals on the track, and slower tempo-paced intervals around hills. Prior to a meet, O'Driscoll stated, "I've been eating right and drinking enough water the day before, just [trying] to mentally run through the course and think about where I want to make any moves."
As a runner, his biggest motivation is Craig Engels, an American track runner who specializes in the 1500m and the mile, with times of 3:33.64 in the 1500m and 3:51.60 in the mile.
He hopes that he can follow Mahone's lead and get a sub 16:00:00 5k by the end of the season.
Mahone prefers the 1k repeats over The Michigan, as he says, "I never really had a bad 1k workout and it can be done in so many different ways pace-wise."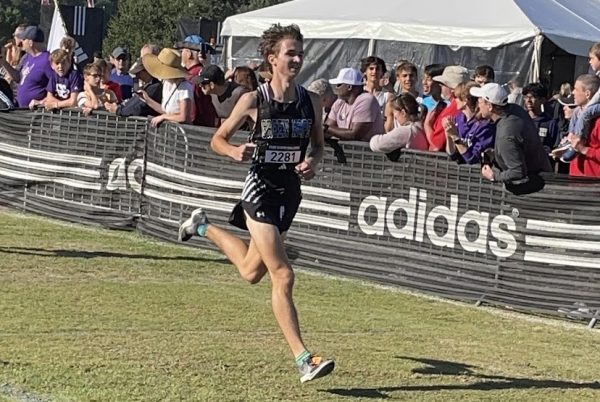 Mahone tries to not think about his race and stays calm until about an hour before, at which point, "[I] start visualizing possibilities and planning solutions." After he's made a plan for how he's going to pace the meet, Mahone gets his mind in a good place to get ready for the gun— which starts it all off.
Mahone's biggest motivation is Eliud Kipchoge, the world record holder for the fastest marathon at a time of 1:59:40, renowned for his mental strength. Mahone said, "I strive to have that level of mental fortitude".
As the conference, regional, and state championships slowly arrive—Mahone is preparing to lead the Falcons to a conference and regional win plus a solid state performance.
As Mahone and O'Driscoll prepare for future meets, they plan on continuing to work hard to further improve their ranking in Green Hope's history.