The music gets louder, the lights turn up, and the crowd goes crazy; playing under the Friday night lights is many football player's dream from a young age. Jerry (JT) Sarchet ('26) and Jackson Tolbert ('26) have not only already played under these lights, but surpassed expectations as underclassmen on varsity. 
Both JT and Jackson sat down with the GH Falcon and answered some questions about their respective football journeys, and the realities of varsity football for underclassmen.
What prompted an interest in football?
JT and Jackson had one major commonality regarding the commencement of their athletic career. JT claimed "I started playing in 8th grade because of my dad… I didn't play much at first, I didn't really like it." Jackson also expressed: "my dad got me into it" then expanded, "I started when I was four. I loved it from the first day." Despite playing multiple other sports as kids, both athletes have developed a lasting passion for football, stimulated by their fathers.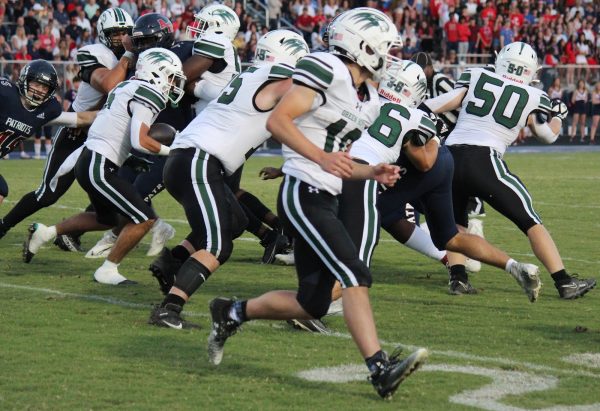 What were some expectations when entering high school in terms of athletics?
JT had high expectations for Green Hope, since moving from Virginia prior to his sophomore year. "I knew our athletics were better than my old school… we went 1-9 last year. I wasn't really expecting [to make Varsity] since I'm a sophomore and the team is really big… I'm a fast paced guy so I like being on Varsity." 
How was it being on JV?
Similar to JT, Jackson had a hunger for competition early on. While junior varsity is a critical step for most athletic careers, Jackson felt "[JV] is easy, it was boring." After his freshman year, he was not only ready for "varsity, which is more of a challenge and more fun," but for a position change as well. He revealed "this season is actually my first year playing quarterback, I used to play running back and wide receiver."
What's the best part about being on varsity as an underclassmen?
Both athletes had similar responses when prompted on the best part of varsity athletics: "more of a challenge." Jackson continued "I wanted to be able to help the varsity team win a little bit more." For both players, JV felt like no pressure at all compared to the competitive nature faced on varsity.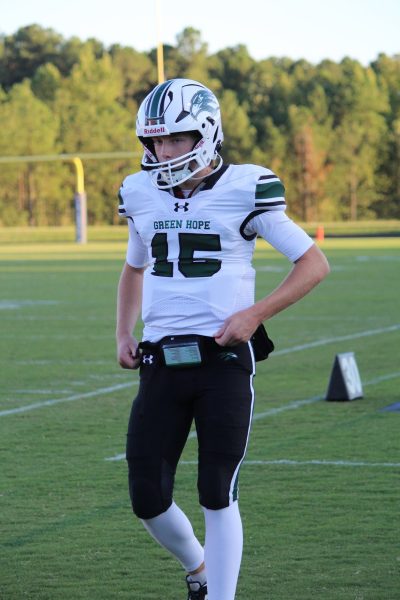 What adversity is commonly faced as an underclassmen on varsity?
An obscure obstacle that many underclassmen face on varsity is not actually on the field. Jackson explained "It's more of a challenge socially… there's tension and competition." JT also felt the age gap was a hindrance: "I get along with the JV's a lot more, but I'm not with them much. I'm comfortable with some of varsity but I mostly talk to JV [kids]."
What should be anticipated for the next few years in Green Hope football?
"Winning" JT assured. "We've had two close games within a touchdown. I feel like this year we'll do a lot better, starting with Panther Creek." Both players focused on each individual game, hoping to make a difference in the season.
Jackson Tolbert and JT Sarchet, respective quarterback and running back duo, have already racked up over 300 collective yards in the first few games this year. Not only are the sophomores making a big impact this season, with Jackson's arm and JT's runs, but they are leading a bright future of underclassmen for falcon football.