Fall is quickly approaching, and everyone knows what that means: movie marathon! Listed below are eight of the most widely renowned autumn movies and there are quick descriptions for each of them on this must-watch collection of films. 
Charlie Brown and the Great Pumpkin (1966):
If you love pumpkins, this edition of the "Peanuts" focuses on Linus and his faith in the Great Pumpkin, but he quickly discovers that no one believes him. Once he sees that no one trusts what he's saying, he has a stake out in the pumpkin patch alone, at night. Throughout the whole movie, Linus tries to prove that the Great Pumpkin is not a myth. This film is a short 25 minutes – the shortest movie on the list!
Friday the 13th (1980):
Regardless of the fact that Crystal Lake is known for murders, counselors set up a camp there year after year. The old locals warn that this is a dangerous place but all of the youngest ignore their concerns. After paying no attention to the warning, the group is stalked by a brutal killer. The counselors are struggling to stay alive in the extremely unwelcoming condition that this camp's location provides. 
The Goonies (1985):
A group of adventurous children try to overtake the company that plans on destroying their home for a country club. Once they go to the developing company's land, they discover a pirate map in the attic and naturally, they decide to follow said map. In search of the treasure, the map takes them to an underground cavern with many dangerous obstacles blocking them from their end goal. 
The Addams Family (1991): 
The father of the Addams family, Gomez Addams, gets a knock on his door and sees a man claiming to be his long-lost brother, fester, he is delighted! However, as time goes on, Gomez's wife, Morticia, begins to grow suspicious of the newcomer. Fester manages to get the Addams family evicted from their house and he goes after their money next. Once Gomez realizes this, he knows he must find a way to stop his brother. 
The Blair Witch Project (1999):
After three film students travel to a small town to collect a documentary on the Blair Witch, a local murderer, their footage is found. Within the footage there are interviews from townspeople to uncover parts of this mystery. The project turns from harmless to terrifying once the students get lost in the woods and begin hearing frightening sounds.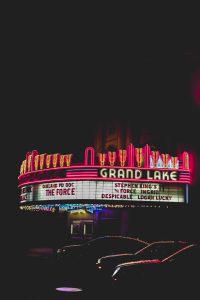 Harry Potter 1-8 (2001):
This eight-part series follows a boy, Harry Potter, whose parents died when he was very young. Until he was eleven, he lived with his horrific aunt and uncle that mistreated him and blatantly favored their son over him. On his birthday a giant comes to deliver the news to Harry; he's a wizard. After hearing this news, his whole life changes. He begins attending Hogwarts, a school for witches and wizards, where he learns more about his parent's death and in turn, more about himself. As the series unfolds, Harry and his closest allies take on the highest form of evil in the wizarding world. This first movie, Harry Potter and the Sorcerer's Stone, lasts for two hours and thirty-two minutes, which is the longest of the films on the list. 
Hotel Transylvania (2012):
Count Dracula, portrayed by Adam Sandler, has a hotel that acts as an escape for monsters. They can be themselves without any humans to judge them. For his daughter's one hundred and eighteenth birthday, Dracula invites many famous monsters over, including the invisible man and mummy. However, things get increasingly complicated as an ordinary human turns up at the supposed safe haven for monsters.
Annabelle (2014):
This movie is a well-known classic starring an older couple. John Form thinks that he has found the perfect gift for his wife: a vintage doll that is wearing a white dress. However, shortly after the doll is brought into their home, bad things start to happen. Devil worshippers invade the couple's home and this force of evil begins a terrible attack against them.
With all the fall breaks school has, there tends to be a lot of down time. When looking for something to watch this season, don't forget to look back at this list of classic movies that will put you in the fall spirit!