The USA has grown in the area of gambling. Not just gambling though, online sports betting. Technology is a big part of our everyday life and is now a new way for virtual gambling. 
Giving your money away to hope for a higher return, sports betting is the new growing trend amongst adults in the United States. 37 states have legalized sports betting with an age restriction of 21 years or older. Adults get to put money down on their favorite sports teams and with the advanced technology, are getting an enhanced sporting experience.  
According to Statista, gambling on a Sports outcome is at a 17% annual growth rate and keeps rising exponentially. By 2027, there is an expected amount of 49.3 million online sports betting users. Gambling apps have better systems for live-streaming and more information with the statistics behind the players/game keep attracting more users to bet. 
Online sports betting, due to the apps, make it more convenient to place a bet because you don't have to go to a casino, instead it's instant on your phone. More users are joining common betting apps such as: Fan Deul, DraftKings, BetMGM, and Caesars Sportsbook. With the ease in betting, according to USA Today, around 71% of sports gamblers bet at least once a week, with the average bet being 30-35 dollars.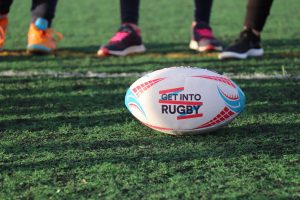 Sports betting apps have a system locked in for users to enhance online experience. Unpacking.co states that these apps have updates to improve app performance, including deposit bonus, free risk bets, odd boosts, and live in game betting. These features attract users and keep them wagering. Mobile casino apps also have programmed geo-location and wifi services, so in case of a bad connection, their bet can still be wagered. Nothing can stop you from betting except yourself. Media brands, such as ESPN, are an attention pulling part to the apps, as making a good deal with a brand can lure in more users.
Many people get stuck into the trap of addiction. John Smith* said that, "For some people, yes, there is a danger in sports betting, I personally don't feel that I have a problem". As many people know the dangers of betting, they claim that, "I have never won, I always lose. But I keep sports betting because one day I'll win". The urgency to win money one day, can work for some people most lead most to negative financial situations. According to Insider 95% of gamblers lose their money, meaning there is a higher likelihood of losing all your money than there is to win anything. This can lead to gambling addictions, as people fixate on the payoff instead of the reality, leading to debt, overdue bills, overdrafts and loans. Problems like this, even if it benefits the gambling field, can end with anxiety and severe issues outside of gambling like crime for the person addicted.
With sports betting growing, a new market has opened: Sportsbooks, or sports betting facilities. Casinos are a hot spot for gambling and now with the addition of Sportsbooks, they are getting more attention from the new crowd of sports gamblers. Circa has the biggest Sportsbook in Las Vegas, extending over three floors with 1000 seats, with technology specific to sports betting and screens worth over $20 million dollars. This enhances the experience for gamblers. According to Nevada Independent, Nevada is a money maker, and holds records of 46.7 million dollars and wagers of 8.7 billion dollars. Sports betting growth is increasing funds towards improving the gambling facilities and adding sports betting-specific technology, from companies with Sportsbooks.
With the variety of sports and experience you get online, users are fascinated by it, as shown from the statistics. This is the market to be in as it gets larger by the day, as companies and casinos get smarter. There is a chance to win money, and with the risk of betting comes the mindset that people still win money through gambling. 
*name changed to protect the privacy of the individual.