The end of an era: Lucas Moore reflects on his tenure as Editor-in-Chief
Behind every online news publication is a hard-working and diverse staff of writers and editors, and for the past three years, Lucas Moore ('23) has been a part of The Green Hope Falcon Newspaper Staff. From overseeing the publication to scrutinizing user analytics, Moore plays a versatile role in Green Hope's online news publication. But now, he prepares to turn his tassel and say farewell to The Falcon.
Initially starting off as a staff writer during the 2020-21 school year, Moore worked his way up as the Satire Editor, then Managing Editor and now serves as the 2022-23 Editor-in-Chief. Under his leadership, The GH Falcon has been awarded the SNO Distinguished Site Award, won eight Best of SNO awards and was ranked #2 in the nation.
GH Falcon advisor Mr. Matthew Mayse heavily relies on Moore's technical and leadership skills in order to enhance journalism at Green Hope. The pair worked together to revive a medium for writers to express their views and write about compelling topics.
In an interview with The GH Falcon, Mr. Mayse commented on his collaboration with Moore.
"Lucas was first the Managing Editor, then I made him Editor-in-Chief because he was the most qualified. It's been a good relationship between him and I. We can communicate well…Lucas has made me a better leader, a more compassionate person. He recognizes my flaws; I recognize his flaws and we can respectfully laugh about them and also correct them," he said.
Moore also touched on his partnership with Mr. Mayse over the past year and a half.
"Mr. Mayse has been instrumental in the success of The GH Falcon," he said. "He brings an amazing level of enthusiasm for the work we do, and advocates tirelessly on our behalf. When he first began teaching the class, he said his primary goal was for our articles to be read. Since then, the website has received hundreds of thousands of views—a number that would have been unfathomable when I first joined the class."
"
Awards, views, and recognition are awesome—but the main purpose is to tell stories and be a resource for Green Hope."
— Lucas Moore, Editor-in-Chief
Witnessing the growth of the program since his sophomore year, Moore also touched on starting his journalism career in the midst of the COVID-19 pandemic.
"[It] was a very different time to be a journalist. Finding interviews, collaborating with other writers and sharing our content was difficult. As I've progressed from writer to editor to Managing Editor to Editor-in-Chief, the approach we've taken has changed dramatically. The school community is more connected now, and it's a lot easier to find interviews and see the impact of our content," he said.
Mrs. Jennifer Barnett, chair of the English Department and an English teacher at Green Hope oversees the ins and outs of students' English education. As an occasional spectator of the journalism program, she provided insight into Moore's leadership and influential impact.
"He's not a boss. I've watched him work alongside all of you, and he rallies everybody and gets them focused on what they need to be focused on, and he does it in such a low key way; it's a very natural leadership on his part. I think he's amazing in that sense," she said. "His contribution to the English department is not just to the English department, it's to the entire school. The Falcon went from nothing to being just absolutely phenomenal in such a short period of time and a lot of that was Lucas and his ability to relate to and motivate students."
Mr. Mayse brought perspective to the conversation, stating that the success of The Falcon is attributed to Moore's leadership.
"The GH Falcon would not be a nationally recognized and multi-award winning publication without the conviction and focus Lucas brought to the program. I can say all day, 'Mr. Mayse did it' but it was really a big collaboration between Lucas and myself," he said.
Though serving as Editor-in-Chief came with ups and downs, Moore positively reflects on his journey through the years. Late-night editing sessions, staff Chick-fil-a nights and memorable Google Meet chats during the pandemic were some of many highlights of his high school experience.
He commented on his involvement in student journalism at Green Hope and looks forward to his future.
"Working on The GH Falcon has given me invaluable experience in leadership, organization, and writing," he said. "It's a very different experience from any other class at Green Hope, but it's different in a positive way. I'm excited for the future and what's coming next, but The Falcon will always hold a special place in my heart."
He ends with a final piece of advice for future GH Falcon staff members.
"Don't forget the true goal of being a student newspaper," he said. "Awards, views, and recognition are awesome—but the main purpose is to tell stories and be a resource for Green Hope. Search for the people doing interesting things or with unique experiences, as they're always the most impactful stories."
"
Be Lucas Moore, and stay Lucas Moore. Do not change who you are because you are already amazing."
— Mr. Mayse, GH Falcon advisor
Moore plans on attending the University of North Carolina at Chapel Hill and will be double majoring in Computer Science and Journalism. Mr. Mayse concludes with a word of wisdom. "Be Lucas Moore, and stay Lucas Moore. Do not change who you are because you are already amazing."
View Comments (3)
The staff of the GHFalcon would love a donation to help the journalism program at Green Hope continue to flourish. Many of our donations go to towards improving the materials that we deliver to you in electronic format. Thank you so much to those that are able to donate.
About the Contributor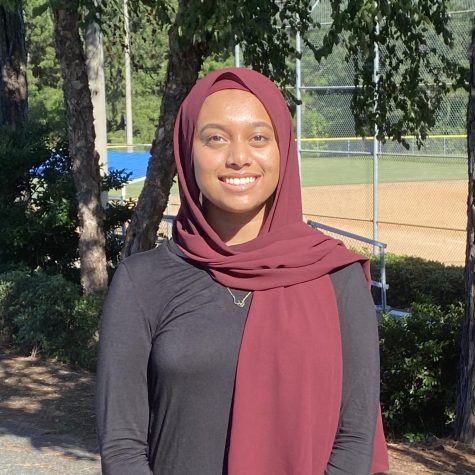 Zeba Hussaini, Managing Editor










Junior Zeba Hussaini returns for her second year on The Falcon with excitement and determination. Hoping to capture Green Hope's student life, you may find her around school interviewing...