A page of Italian heritage
Current AP United States Government and Politics teacher returns to his roots in "Ischia: La Mia Seconda Casa"
Is he an educator who focuses on the inner workings of government and politics? Is he a published author reflecting on his Italian heritage? Mr. Michael Miragliuolo is both.
He recently published "Ischia: La Mia Seconda Casa," his third book.
"I've written three books now and I think it's because there are certain stories that need to be told," Miragliuolo said. He published "An American Boy" in 2011, and "The Real Story of a High School Coach" in 2014. "My last book [in 2014] was about the stories through the life of a high school coach, and I thought this [Ischia: La Mia Seconda Casa] was a neat story about someone going back to where their ancestors came from and reconnecting the family," he said.
"Ischia: La Mia Seconda Casa," tells the story of Miragliuolo's firsthand experiences on the Italian island of Ischia in the Bay of Naples, as well as his personal connections with the people and community of Naples. The book not only presents an in-depth view of island life, but a personal portrayal from a writer's experiences in viewing Ischia as his second home.
"
I wanted to tell the story of my family and my connection to the island of Ischia in Italy. I think it's a neat story, especially for my family over there. I want to bring dozens of copies of books and get them spread around the island."
— Mr. Michael Miragliuolo
Miragliuolo hopes that his book motivates readers to ponder their family heritage and connections.
"Maybe it could also inspire one or two people to go and reconnect with distant relatives as well," he said.
As Miragliuolo worked on the book, he encountered the most difficulty at the beginning. A plethora of thoughts and memories clogged his mind and made it difficult to identify a clear direction for the story.
"I guess starting is always tough. I started off with a chapter from my first book I wrote in 2011 and that was sort of the basic starting point, and I expanded on that," he said. "I felt like I didn't know exactly at times where I wanted to go with it, and it's essentially a big long chapter about family connections and a long chapter about what the island is like. I wasn't sure where to go after that."
For help, Miragliuolo turned to his community at Green Hope.
"I required help with formatting and editing and got assistance from two students here at Green Hope who helped design the front and back covers of the book. Another student here helped me translate the book into Italian and he shared it with his grandmother in Italy who proofread it to make sure the translation was accurate," he said.
"
It's awesome to hold the hard copy of the book in your hand and see it"
— Mr. Michael Miragliuolo
After months of collaboration and effort, the most exciting part of the process for Miragliuolo was seeing the finished product.
"It's neat to finish a book, and it's always cool to accomplish something. It's awesome to hold the hard copy of the book in your hand and see it. It's a good feeling of accomplishment," he said.
As Miragliuolo prepares to present "Ischia: La Mia Seconda Casa" to the Italian community that helped shape him as a teacher and writer, he says, "I think I'm most excited to be able to hand it out to the people on the island who it will mean a lot to. Whenever I go to Italy, I always try to bring a gift of something special or important. I've been struggling to find good exciting gifts, so I think this is probably as exciting as it can get for them."
After completing his third book, Miragliuolo reflected on whether he had more stories to tell in a print format.
"I don't know. This might be it," he said. "The only thing I've thought about maybe when I'm near retirement is a book on just travel in general and the places I've been. I've had the opportunity and good fortune to travel to a lot of countries and see really cool places. We'll see what happens with this."
For other aspiring authors, he offered some advice.
"Just start. Just write down thoughts. I had a friend who told me when I was in college, just carry a little notebook and write down thoughts to get started and I guess times have changed a little. What I would do when I thought of things was to put it into notes on my iPhone to have things I could go back to. I think you've just gotta start."
Leave a Comment
The staff of the GHFalcon would love a donation to help the journalism program at Green Hope continue to flourish. Many of our donations go to towards improving the materials that we deliver to you in electronic format. Thank you so much to those that are able to donate.
About the Contributor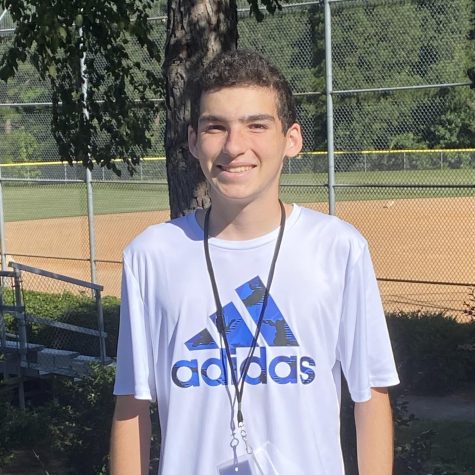 Max Spiegel, Staff Writer
Max Spiegel is a sophomore at Green Hope High School, and this is his first year on the staff of the GHFalcon.  Max made his way to Cary from his home state of New Jersey.  When not working on stories,...